Covid news
We have a single positive case at the minute and all staff members and students identified as close contacts in school have been informed.
If your child / young person is identified as a close contact of a positive covid case, we strongly advise them taking a PCR test followed by 10 days of LFD tests. This is to ensure that we catch any cases later if they are incubating covid.
Please log all positive LFDs and both positive and negative PCR results as well as the date of test and date results received at: covid19.ncs@percyhedley.org.uk
Remember – if your child has any symptoms at all – think covid first. This is really helping us to limit cases in school and promotes school attendance and learning.
MarvellousMe
This week you should have received a letter from the office with your login details. Please log in so we start sharing stickers etc about your kid's awesomeness with you. There is not cost to you at all for using the service, you just need to download the MarvellousMe app for apple or android. You can also access this at www.marvellousme.com
School Choir Send Message To Rose Ayling-Ellis
Some of the signing choir sent a message to Rose Ayling-Ellis the first deaf participant in Strictly Come Dancing and we were delighted when she retweeted and commented on the post!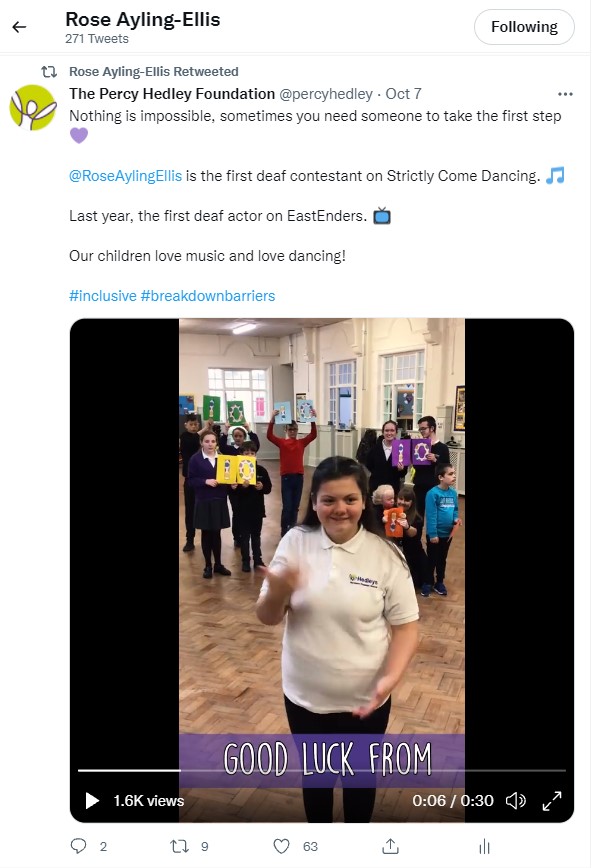 Ashleigh Sinclair Wins Silver at Pearsons National Teaching Award
Following on from #NationalTeacherDay earlier this week, we have some photos to share from The Pearson National Teaching Awards.
Ashleigh and her colleagues went down to London for the awards evening hosted at the JW Marriott Grosvenor House London It was a lovely evening celebrating all the amazing things that teachers do and Ashleigh was a Silver Award winner!
Northern Counties School 2021 NASS Outstanding Impact Award – Nomination
The Percy Hedley Foundation are delighted to announce that Northern Counties School has been shortlisted for the prestigious National Association of Independent Schools & Non-Maintained Special Schools (NASS) Awards.
The school has been shortlisted for the 2021 NASS Award for Outstanding Impact in recognition of the work that Northern Counties are doing around Positive Behaviour Support, which leads to improved quality of life outcomes for our young people.