Thursday 11th March 2021
COVID-19 updates are now held within the Whole School Blog
Saturday 2nd January 2021
Happy New Year everyone!
I hope you have had a good break.
As per government guidance, we are open for most students on Monday.
After the Covid-19 outbreak before Xmas we still have a number is staff not able to work and I have contacted a few families to say which days we can safely have their child in school. If you have not had an email from me then we are currently expecting your child in all week.
As usual, if your child is displaying any covid-19 symptoms they must get a test and cannot come back to school until they get a negative test. All self-isolation rules still apply. Please contact school if your child won't be in school in the usual way.
We are looking at how we can administer Lateral Flow Tests in school for students and staff but we will not be starting this until we have all processes and training in place. Please keep an eye out for consent forms and further information.
If you are able to volunteer to help us out with the testing process, or you know somebody who can, please do drop me a line.
Jo Allen
Headteacher
Tuesday 15th September 2020
Dear parents,
At the start of September, we welcomed back all of our students in our schools and college and have seen a gradual increase in service users attending our day services.  This means that we've had the largest number of staff, students and service users in our buildings since March when we closed due to the COVID-19  pandemic.
We are following government guidance to keep everyone as safe as we can and work closely with education, social care and health colleagues in local authorities. As the situation is changing daily, we are all closely monitoring the current changes regarding local lockdowns and will follow any guidance issued on this.
You might have seen in the news or media that there has been an increase in the number of confirmed Covid-19 cases in the North East in the last couple of weeks and the local authorities have been asking us all to make sure we're doing what we can to prevent the spread of infection.
This increase is already having an impact on schools, colleges and workplaces across the region.  To minimise the spread of infection, students and service users have been placed in bubbles.  If a student/service user displays any symptoms while in school, college, or day services then arrangements will be made for them to return home and you will need to arrange a test. If the test result returns a negative result, then you can return to services.  If anyone that has been in school, college or day services and is confirmed as a positive case we will contact all parents/service users and follow advice given by Public Health England and we may be advised to close all or part of a "bubble".
The increase in cases and with government test and trace programme now in place, more people are being contacted and advised to self-isolate.  This is also having a significant impact on our staffing levels, with higher levels of absence than we have previously seen during the pandemic because some colleagues are having to self-isolate with their household even if they don't have any symptoms themselves, in line with government guidance.
This impact may mean that there are times where we don't have enough staff or staff with the required training to support students or service users safely.  If this happens, we may need to send them home until the situation is resolved.  We'd take every possible action to avoid this and would only do this as a last resort, but our priority is to keep all students and service users safe. If your child/family member is affected, we will inform you as soon as we possibly can and support with any necessary arrangements. Where possible, home learning will continue as per lockdown, if this becomes a reality.
It's really important that we all do everything we can to prevent the spread of COVID-19.  Here's a useful guide to help you know when you should keep your child or family member at home.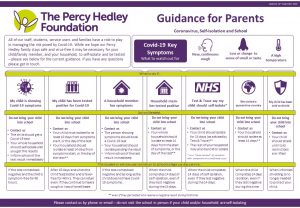 Parental Covid-Isolation Guidance 14th September 2020 v2
Thank you for your continued support.
Jo
Jo Allen
Headteacher
Friday 17th July 2020
As we prepare to say goodbye to the children for the summer holidays I want to extend my thanks (and I'm sure yours) for the phenomenal response and resilience that the staff have shown in supporting us to stay open throughout the pandemic.
I know that this has been a particularly challenging time for all our parents and carers – especially those who have been shielding at home. We have been working hard to develop and review our risk assessments in response to all the guidance (issued daily) from the DfE and to the health advice proffered by our healthcare colleagues.
We have welcomed at least 65% of our children back into school: some for just for a few days and others who have attended full time since the start of lockdown. It has truly been a delight to have them in school.
I have prepared a short film to explain our current plans for September – please click on the link below to watch this.
If there are any changes these will be sent out on ParentMail and emails, so please watch out for these. If you need to contact school for any reason at all through the holidays, remember to also copy in closure.ncs@percyhedley.org.uk as this mailbox is manned by a number of colleagues.
I hope you have a good summer and we look forward to the return of all children at our usual times (9.00am – 3.30pm) from Wednesday 2nd September.
Best wishes
Jo
Jo Allen
Headteacher
Updated Sunday 17th May 2020
"Our plan to rebuild NCS" Letter from Jo Allen, Head Teacher:
Hello everyone
I hope that you and your families are all keeping well during these challenging times. The staff have kept me informed about how the children in school and at home are getting on and I am incredibly proud of the dedication and care that whole staff team have shown. They have really pulled out all the stops to support them and you as their parents and carers and a considerable number of you have affirmed this in emails to them and me. Thank you for this – it really does make a difference to know we have your support!
As you are aware we have remained open to children whose parents are key workers and for those children who have needed us the most. We have operated with a reduced staff in school and those staff who are able to work from home have been supporting our other children remotely. Through this time we developed systems in school to support us through the period of sustained transmission, when guidance from the government for education was non-existent.
Last week the government "urged" all children in the vulnerable category (those with an EHCP or social worker) to attend school. This creates a significant issue for us, as all of our 100 pupils have an EHCP… As such we are working to develop systems to support as many of our children as we can, whilst adhering to guidance which is now available. Most  importantly we will do everything we can to keep everyone safe.
We will be offering places to everyone who has requested them, although this may be on a part time basis initially (either Monday / Tuesday or Thursday/Friday). This helps us to minimise the number of people our staff and students come into contact with at any one time and keep numbers in school low. We have reduced the class sizes down to a maximum of four and we are trying to ensure students stay as much as possible in a particular area. We are also reducing the staff in school to those working directly with the children and a skeleton team of other support.
Since this began, we have been taking children's temperatures in school each day. New guidance has told us not to do this, but I would ask that you continue to check your child's temperature before sending them into school, and I will be advising staff to do the same.
We took a belt and braces approach to PPE, but guidance states that PPE is not needed in schools, and indeed if PPE is not used correctly, this causes a higher chance of transmission. As such staff will wear PPE during personal care tasks and when assisting children to eat/drink- this will be gloves, apron and facemask. They will also wear PPE and a face visor with those children that are known aerosol producers. Staff will also wear face masks if children become symptomatic.
We will ensure all staff and pupils regularly wash their hands. We will ensure all staff adhere to the 2m social distancing rule where possible, and will encourage children to do so as much as we are able. However, as you can imagine this brings unique challenges with any children and an increased challenge for a lot of our pupils.
Thank you for those people who have responded to the questionnaire sent out requesting for information about places, this is not intended to cause any pressure to send your child to school, indeed it is entirely your choice- and there will be no penalties of any sort for non-attendance.  Also please feel free to change your mind at any time – there is no right answer to this and we all find ourselves as parents with exceedingly challenging decisions to make.
If you do decide to send your child back to school, please be reassured that I will do everything I can to ensure all children and staff are as safe as possible. But I must also follow direction of the government guidance. If you do not choose to send your child to school, we will continue with the home learning/therapy tasks as currently.
For those parents who have confirmed they would like their child to return to school, we will be confirming places for the following week via email, please only send your child to school if you have received this weekly email confirmation.  We will also be advising the local authority transport department who will be attending on a weekly basis, it would be useful if you could also confirm with them whether you intend accepting the school place.
If you have any concerns or queries please get in touch with a member of the senior leadership team, or the class team. As ever the email for any questions or information is closure.ncs@percyhedley.org.uk
We all miss the children greatly and I look forward to welcoming them all back to school, once this is over.
Take care, stay safe
Jo
Jo Allen
Head Teacher
Updated Saturday 21st March 2020
At this very unsettling time please be assured we are doing everything we can to keep the pupils and staff safe. This includes following all government and Public Health England advice.
The latest information from the Percy Hedley Foundation can be found on the PHF website:
www.percyhedley.org.uk
Each week we will aim to open the school for as many children as we can safely manage with the staff available to us. We also have teachers and therapists arranging work for pupils to do at home. Due to the unprecedented high level of staff absence, where staff members are either ill or following advice to self-isolate and socially distance themselves, our capacity is much lower than demand and sadly will reduce further.
You will receive an email on Wednesday that includes an online form to complete where you can request a place in the following week. We must have this form returned by midday Thursday in order to arrange staffing. You will receive an email each week to say what we hope to be able to offer in the following week. All arrangements are liable to change at any time. Any pupil or staff member who develops symptoms will be isolated and sent home.
If you have any questions please email this mailbox which is monitored by the school leadership team:
closure.ncs@percyhedley.org.uk
Please try to not email individuals about school closures and availability as we don't know who will be well over the coming weeks. Teachers and therapist will contact you separately about school work.
Keep an eye on ParentMail, Facebook and the Foundation and school websites for updates.
Look after yourselves, my thoughts and those of the team are with you.
Jo