February 2022
Penshaw Class
So far this term, we have been working hard in English and Maths sessions. We are finishing off reading the story called 'Holes', which students enjoyed discussing and writing about the characters.
We have enjoyed our morning reading sessions at the beginning of each day – we like talking about our reading books.
In Careers, we have been practising our practical work-related learning skills, such as matching different jobs in the correct sector, what likes and dislikes student have about working/being in school, and the different types of payments people use.
In P.E, we have participated in swimming and a fun game of archery every week.
On Friday 11th February, the pupils participated in Art workshop activities to celebrate LGBTQ history month. We wore bright clothes and marked how amazingly different and unique we all are.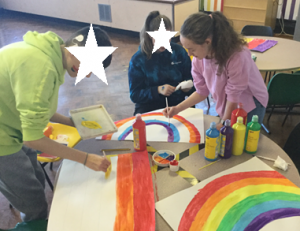 Hadrian Class
The students in Hadrian Class have been learning all about food – whether it be cooking a wide range of religious foods  or learning about food from around the world. We have also begun making our very own cooking vlogs using homemade recipes – stay tuned…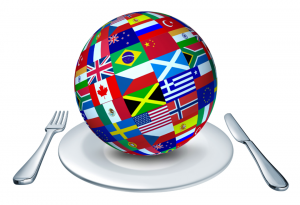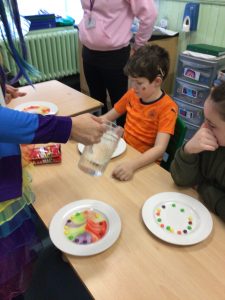 May 2021
Hadrian Class
It's been an exciting few weeks since the start of the summer term as we sink our teeth into the Myths and Legends topic. Our topic will focus on the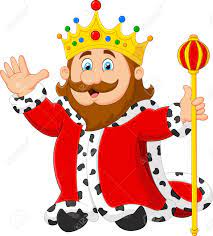 stories surrounding the legendary King Arthur and his Knights of the Round Table where we will explore the quests and achievements of these individuals.
In English, we have already begun watching Disney's Sword in the Stone film, a classic featuring King Arthur's childhood, with a view to performing a play based on this which we will be recording for he viewing pleasure of all our parents and carers! In Maths, we are looking at multiplication and division while in Science we have begun our Plants topic by growing sunflowers. Through growing sunflowers, we will explore how plants grow and reproduce. Elsewhere, in History we have begun looking at Ancient Egypt as a civilization and how it compares to ours today.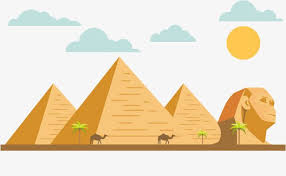 We hope the children are enjoying the Myths and Legends topic and that it sparks their love of learning.
Penshaw Class
So far this term, we have been catching up with our learning and working very hard. We have added extra English and Maths sessions in the afternoon.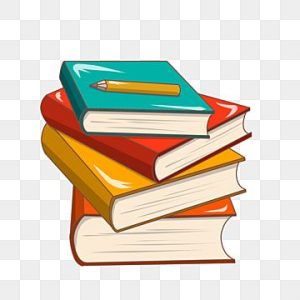 We have enjoyed our morning reading sessions at the beginning of each day – we like talking about our reading books.
In Careers, we have been practising our practical work-related learning skills.
In P.E, we have participated in swimming and also fun game of rounder's outside every week.
We hope the students are enjoying every second of their last term before the summer holidays.
Angel Class
Students in Angel class have been learning about the cycle of a plant, and  how a seed germinates and what conditions a seed needs to grow.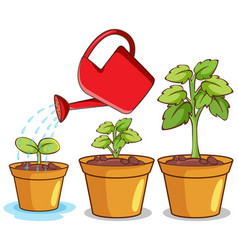 We then went to the allotment and grew our own poppy flowers.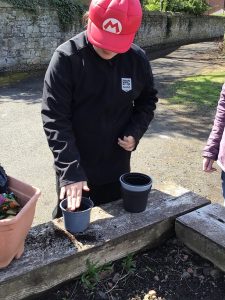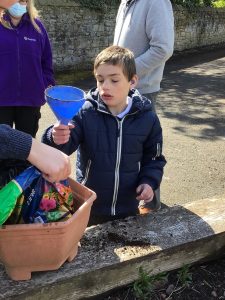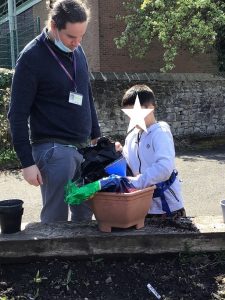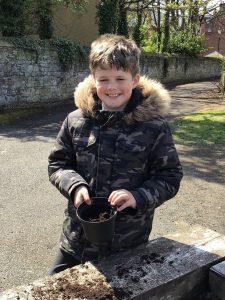 October 2020
Angel Class
In Angel class we have been back in the swing of school life and working hard to learn new things linked to our topic of Animals.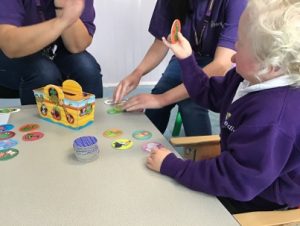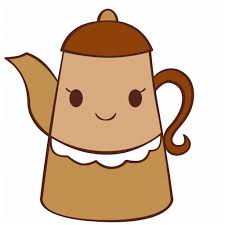 We have been learning lots of new signs for different animals and learning about the Noah's Ark story in RE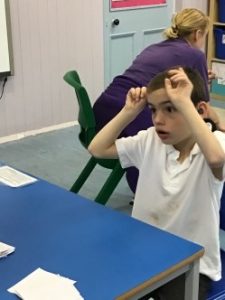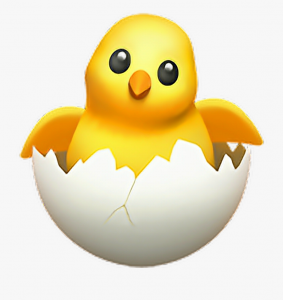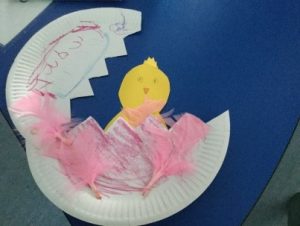 We have been learning about the life cycle of different animals and making art work linked to chickens and eggs.
In Literacy we have been working really hard on improving our handwriting skills to make our work look really smart.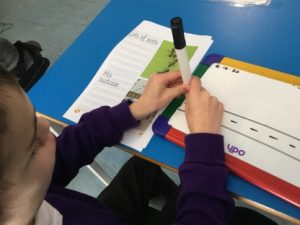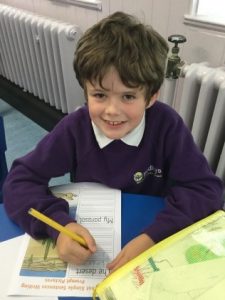 In Numeracy we have been asking people what their favorite animals and pets are and making tally charts and pictograms.
Hadrian Class
It has been a very unusual year so far in 2020 since our last blog! Despite everything however, we are delighted to see the children return to school and continue their learning in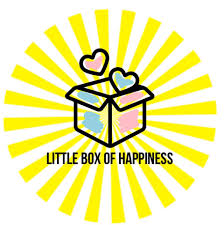 very different circumstances.  So far this term, there has been an emphasis on mental health and well-being in the form of creating happiness boxes which has enabled us to talk about our emotions and feelings in our new RSE lessons.
Other lessons have resumed – we have been looking at acrostic poems in English and counting up to 1,000 in Maths! Geography has seen us begin to explore maps, atlases and globes while RE will be a revisit of Christianity so we can explore the Bible in depth. In science, we are investigating light in form of reflection and mirrors as well as understanding the importance of staying safe under the Sun. We have also begun new reading lessons at the beginning of each school day – this will help our children improve their reading and comprehension skills on a regular basis!
We hope the children are enjoying every second of their return to their school routines!
Penshaw Class
We have been working hard this half term and remembering new rules about staying in our bubbles in school.  Everyone has been really good at washing hands and making sure work areas are kept tidy and clean.  We have two classrooms so we are able to keep our distance and all the students have their own work station.
The students have learned their new timetables and are following the new routines.  Each day now starts with a reading session and the students have said they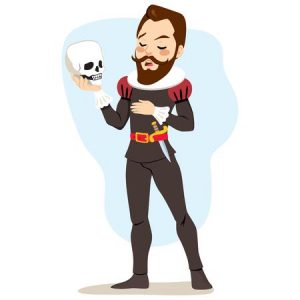 enjoy reading their books and practicing their new spellings in the mornings.  In literacy lessons we have been learning about the story of Hamlet and in art the students have been designing and sculpting clay skulls, we haven't reached the part of the story where Hamlet finds the skull yet!  We have also enjoyed talking about, planning and writing imaginative and factual stories.
We have continued to build skills in addition and subtraction, as well as number patterns and multiplication and division.  We have also revised math's topics shape and space and have also taken part in lots of practical activities;, measuring length and capacity and weighing different objects.
All the students have worked hard starting or adding to Asdan portfolios and working towards achieving lots of certificates.  We have also started making Transition Booklets, thinking about likes and dislikes and starting to make choices for the future.
***********************************************************************************
January 2020
Hadrian Class
We've had a very busy half-term in Hadrian Class tackling our termly topic of Enterprise! The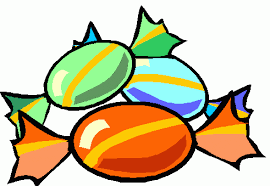 children have enjoyed our Apprentice-inspired work in English designing a sweet and pitching it to our judges! In Math's, we have been reviewing our knowledge of number and place value in order to understand which digits represent which numbers. We have also learned about money, identifying notes and coins and finding change in practical settings!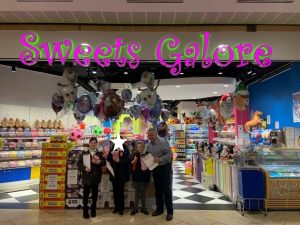 Elsewhere, in Geography we have been learning about the United Kingdom, including its countries and capitals and this will continue into next half-term. In Science we have been looking at everyday materials and its uses, identifying which materials are used in making certain objects and thinking about the suitability of these materials for their purposes. We ended the half-term on a high note with our annual Christmas performance based on the Greatest Showman which was a hit with staff and children!
Angel Class
Here in Angel class we have had a busy half term with lots of exciting visits and lessons. Our newest member of the 'Angel' class has fitted in perfectly and has made lots of new friends; we can't imagine the class without her.
Our topic this term has been 'All about me and my school' and 'The enormous turnip' has been our story.
We all enjoyed it when the Police came to visit the school with their horses. We got to dress up in their uniform (some of their hats were a little too big) and learn about their important jobs. We even got to sit in their police van and pretended to be police officers and play with all of the buttons and lights, it was all very exciting.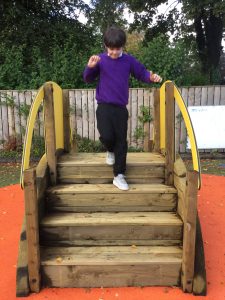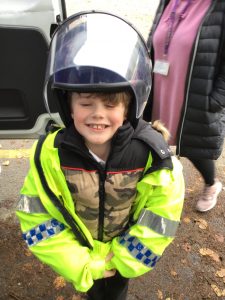 In our math's work we have been exploring, under, on and through, we went out onto our play park in school to do this, bouncing on trampolines, going through tunnels and swinging on the swings.
We did lots of lovely Christmas activities before we finished, we all visited Fenwick's window to see the Charlie and the Chocolate Factory display and looked around the Christmas markets, we all had a lot of fun. We also went to see the Pantomime at the Tyne theatre –Aladdin – as our end of term treat. It was very colourful; there was a lot of dancing and chasing scenes which we all found very funny.
We are sad to have said goodbye to our class teacher Penny this term but are very excited for our new teacher Helen Blakelock and the new exciting plans.
Penshaw Class 
Last term our class enjoyed learning about the story of Macbeth.  We planned and presented an assembly about Macbeth and we dressed up and role played parts of the story.  One of our students drew a fantastic picture of the three witches.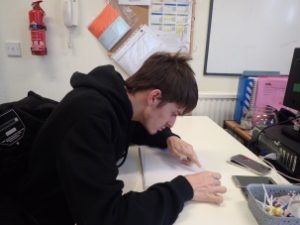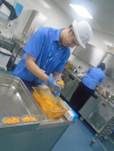 David and Oliver both enjoyed their work experience placements.  They took lots of photos of special events.  Oliver enjoyed going to North Tyneside Hospital to work in the catering department.  Another student started going to Jesmond Park Academy to join a class to do a BTEC in Health and Social Care; they are looking forward to continuing the course this term.
We were very busy leading up to Christmas; we made and sold reindeer, key rings and Christmas decorations.
This coming term we are planning to visit lots of different places to Complete our Asdan Personal Independence files.
September 2019
Welcome to the new Academic year 2019-20
This year all of our classes have been renamed – with the theme of interesting places around the North East….. We also have a newly opened centre – The Armstrong Centre. Please take a look below to see what all of our classes have been up to since the start of the new term…
Julie's Class – our new class name is Penshaw Class!
Penshaw class has had a very busy start to the term.  Our students have been planning and making initial visits to various work experience placements, for example painting and decorating, media and photography and catering.   Other students have started motor vehicle maintenance and painting and decorating training courses with Barnardo's Employment Training.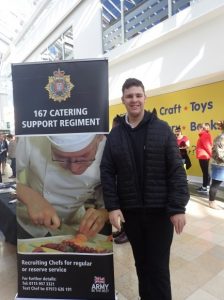 We also have a student who has started a Health and Social Care course at Jesmond Park Academy attending three days a week.  We are continuing to work with the Speech and Language therapist and Occupational therapist in developing communication and independence life skills, and have planned many visits in the local community and surrounding area.
Penny's Class – our new class name is Angel Class!
We have all been very busy since returning from our Summer break.  We have also welcomed a new student into our 'Angel' class.
Our topic this term is 'All about me and my school' which will help us find out about ourselves, each other and all about our local environment.  We were so excited to visit the 'real' Angel of the North after who our class is named.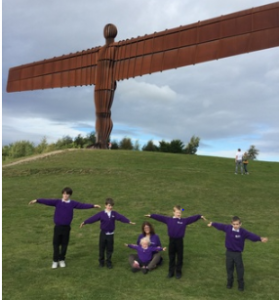 We then decided as part of our science work which is exploring our senses to create a huge Angel for our classroom wall using our hands to colour mix … we did get a bit excited and carried away… but we had great fun in our learning and we now all know that yellow and red makes….orange!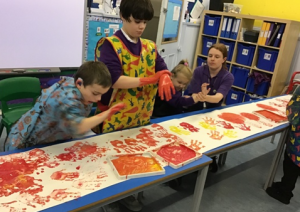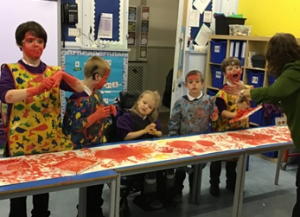 We have also been practising lots of cooking actions in our food technology sessions with Nichola.  In our communication in the community lessons we read our shopping lists to look for and buy the ingredients –lots of maths work with the money too.  We either walk/use the metro or bus to the local shops which helps us develop our life skills.   We then name the things we have bought practising our British Sign Language signs and/or our voices and written word/picture recognition.  We then look, feel and taste the ingredients before we follow

our visual recipes to make lots of tasty things to take home to eat.  So far we have made healthy vegetable soup, funny pizza faces and cheese straws
(we worked hard using the grater)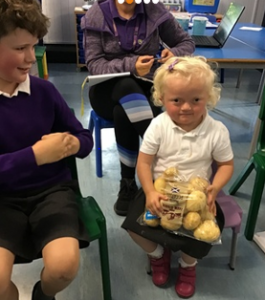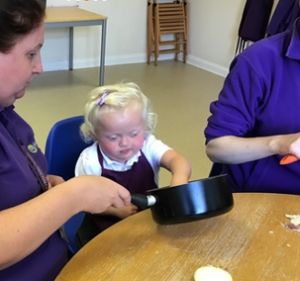 In science we have been learning about our 5 senses and have been experimenting with

'smell testing games, taste testing games and feely box games.  We also recorded our results to see if we were right or wrong.

Helen's Class – our new class name is Souter Class!
Our class have taken part in some exciting educational visits since coming back in September. As part of employability and careers sessions a few of our students visited The Port of Tyne at North Shields. They found out about job opportunities there as well as been given a guided tour of the Port.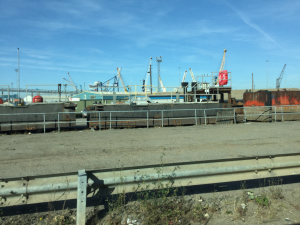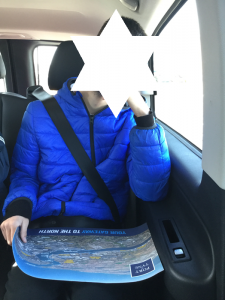 As part of Art, Lauren took our students to The Baltic at Gateshead. They had the opportunity to look at the artwork there and go on the viewing platforms. The students are going to be involved in creating some of their own artwork that will be displayed in the Baltic later in the year.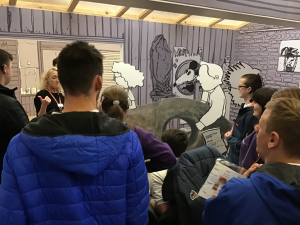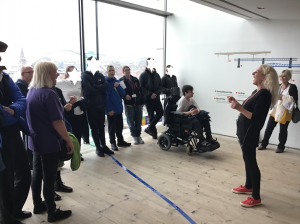 Callum's Class – our new class name is Hadrian Class!
Hadrian Class has had a very exciting start to the new school term! The highlight so far has to be our field trip to Roman Vindolanda to see Hadrian's Wall as part of our history topic – the children loved looking around the ruins of the ancient fort and examining historical artefacts in the museum! We have also created our very own autobiographies, telling each other about our families and friends, our likes and dislikes and also about our experiences at Northern Counties.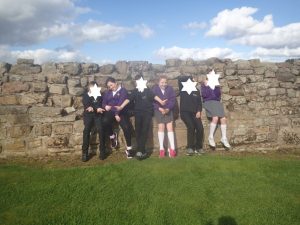 In mathematics, we have been learning about various types of charts such as pictograms, tally charts and bar charts to present different information.  We've also begun our science topic of evolution and inheritance where we have looked at animals and their basic needs for survival.

*****************************************************
April 2019
Mairead's Class
In Mairead's class this term, we have thoroughly enjoyed exploring the topic of 'Food and Drink.' We have been investigating a range of different foods and putting food into different categories, such as dairy, meats, fruits and vegetables.
During the week of Red Nose Day, we even investigated grouping food into colours. Lots of vocabulary building has been going on and using our thinking skills to work out why we have grouped the foods and drinks into categories.
The students have been learning to read, write and spell lots of foods they like and can ask for. We have also been developing skills linked to saying no to foods we don't like or want in an appropriate way.
We spent two weeks looking at how bread is made and at stories linked to bread. We read 'The Little Red Hen' together then made our own bread.
We held a 'Bread Week Bake Off!' Jo came to judge the breads and tasted them all. Michael was crowned the 'Bake Off King!' Lots of fun was had by all.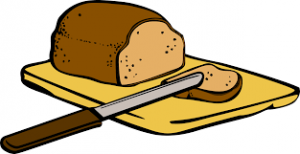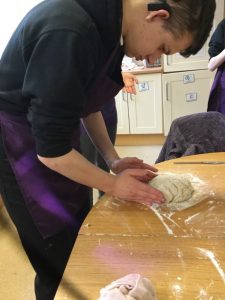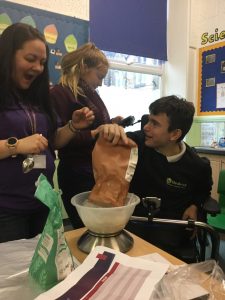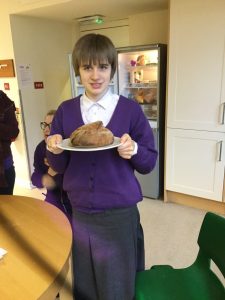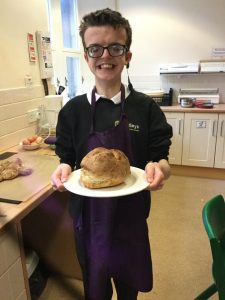 Penny's Class
Penny's class held a 'posh'- 'ladies day afternoon tea' to say thank you to the special ladies who help look after us at home.  As part of our communication in the community work we researched different types of flower pots and then in our Design and Technology lessons planned and made our own flower pot to give as a special thank you present.  We also used our IT skills to design and create a powerpoint to then present at our afternoon tea finale.  There were cheers (and tears) all round as the children were so confident communicating and presenting using their preferred mode of communication e.g. British Sign Language/voice/photographs/symbols.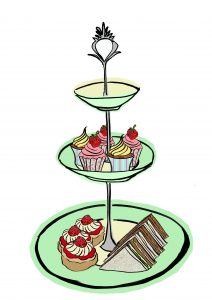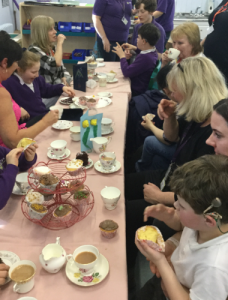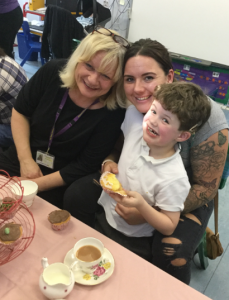 As part of our topic on 'transport' we have visited Newcastle Central Station – we got to look inside a train and even sat in the driver's seat.   We have also visited the Grace Darling museum as part of our history work and saw the boat that she used.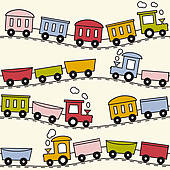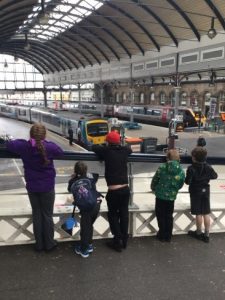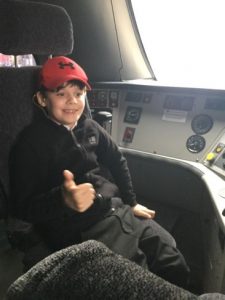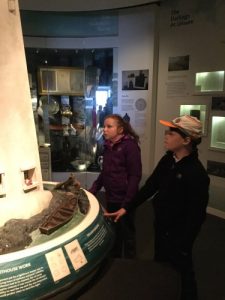 In Geography we have been learning how to use pictures or symbols to show familiar places and what they are for and recognising physical/natural and human made features of places.  We have also been using maps of the school ground to discuss and work together as part of an orienteering challenge.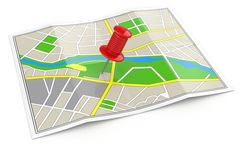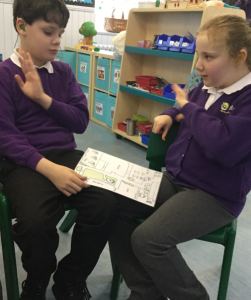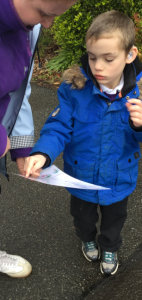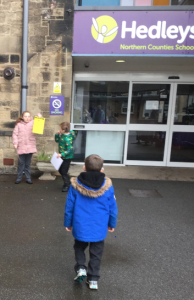 Julie's Class (14-19)
We have enjoyed visiting Food Nation to make fish meals, and visiting an allotment.
We have made and sold wine racks, bath shelves and Mother's day gifts as part of our Young Enterprise topic – we have already made a profit!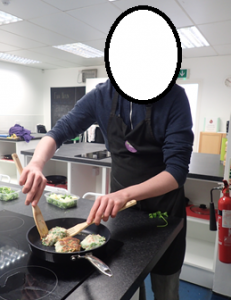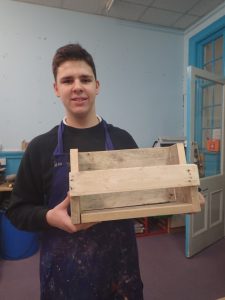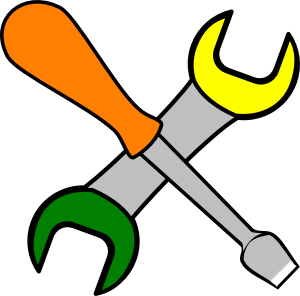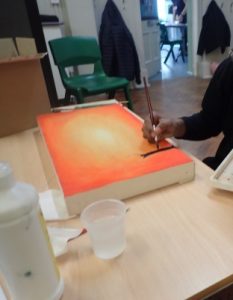 A student painted a picture of an African Sunset for an Art Competition.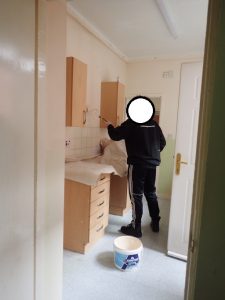 We have had lots of visitors in school to talk about college courses, apprenticeships and work experience. One student has been working alongside the Mears group to gain experience in painting and decorating.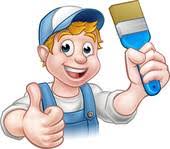 14-19 have been working hard to complete Entry Level Qualifications in English and Maths and have completed lots of Asdan Challenges. We have also been doing BSL Level 2 Assessments
Helen's Class
We have been fully involving ourselves this term in our topic of Gardens and Parks. We have begun planting lots of things in Science in preparation for our scientific enquiry work linked to plants and how they grow. We have planted vegetables as well as flowers and are hoping to have something to bring home to share with families at the end of the term. This week we have been on a class visit to Rising Sun Country Park. It was fantastic to see all the amazing flowers and wildlife and do some field work linked to maps and geocaching.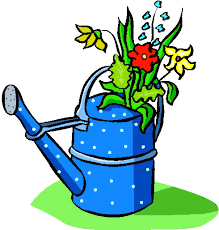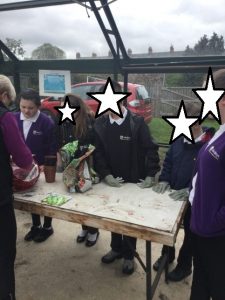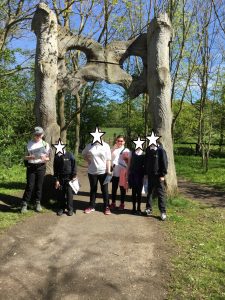 January 2019
Mairead's Class 
This term's Food and Drink topic has gone off with a bang! Literally! The students have thoroughly enjoyed exploring what happens when you mix mentos sweets with coke in Science and predicting what will happen if they use a bigger bottle and more mentos! The snow did not put us off investigating.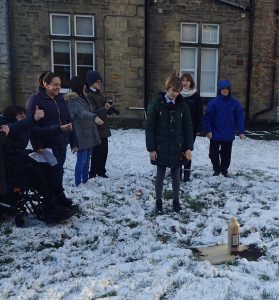 We started the term sorting food and drinks into categories and finding out what each of our favourite foods and drinks are.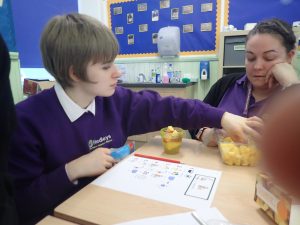 This was not as easy as it seemed and led into interesting conversations about drinks / food being solid or liquids. Yoghurts, jelly and the gastro feeds prompted debates amongst the students and staff!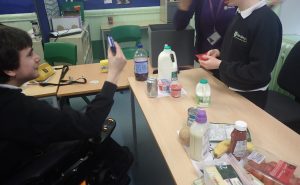 Each student has a list of food and drink based words to learn to read and write this term. We are looking forward to exploring these and expanding our vocabulary. It links into our functional literacy and numeracy programmes and our aim is to ensure the students can use food and drink language to get our basic needs met from the people we know and in the community.
Helen's Class
Last term Helens class was the first class to explore the new Green Screen resource in the art room. We created our own backgrounds linked to Charlie and the Chocolate Factory using plasticine then acted in front of the green screen. We later combined this using the computer to create a scene from the novel.