February 2022
Norham Class
This term some of our students have continued to access a community sports session through sportsworks where they take part in weekly multi sports activities including basketball and football at Westmoor community facility. This is a great opportunity to join in with something fun alongside our peers and we have really enjoyed working with the coaches and learning some new skills.
The rest of our class have been taking park in weekly half day hiking accessing a range of locations throughout the north east. We particularly enjoyed our recent visit to Druridge Bay country park with a hike around the lake and a visit to the park. Each week we are increasing the distances we can walk and developing our communication and interaction skills alongside our peers.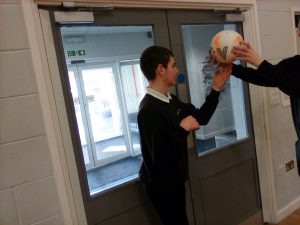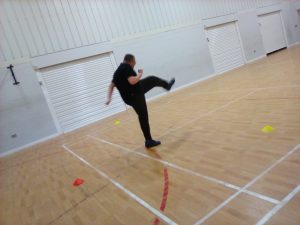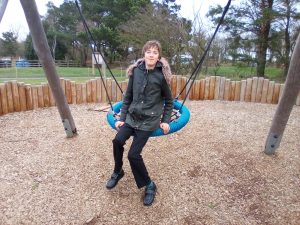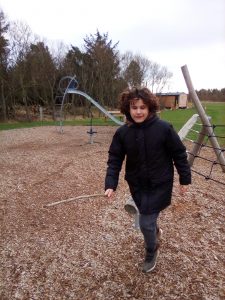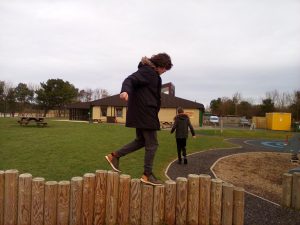 Bamburgh Class
Bamburgh class participated in LGBT+ History Month celebrations. We had lots of fun doing activities such as tie-dye t-shirts, word searches, skittles science experiments, parachute games and dancing on the field with our friends. One of our favourite songs was Working at the Car Wash and dancing using ribbons and materials!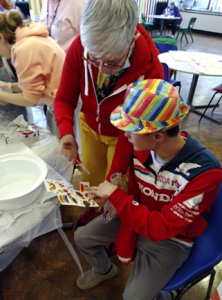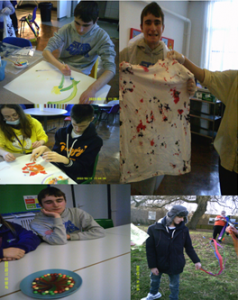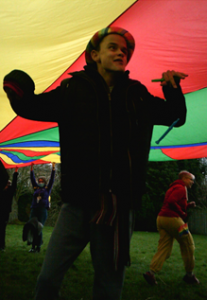 Lindisfarne Class
Students in Lindisfarne class have enjoyed trying a different community sports activity. They have been accessing a weekly bowling session where they are working to develop their functional communication, numeracy and turn taking skills all whilst having lots of fun together!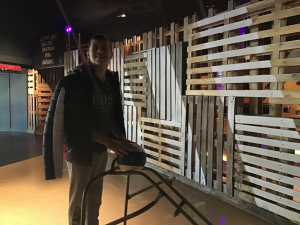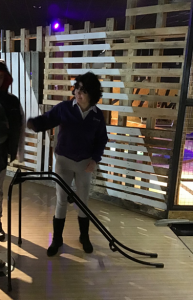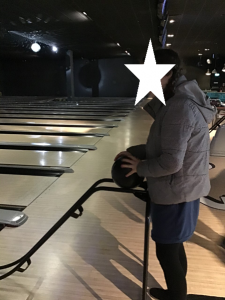 Alnwick Class
The class have been celebrating the Japanese festival of Setsubun. Setsubun is the day before the beginning of spring in the old calendar in Japan and is celebrated by throwing fortune beans to ward off the devil. Our class made devil masks in Art, using their chosen communication methods to select colours and materials. In Maths we threw coloured bean bags in to the corresponding hoops, working on our colour matching and also fine motor skills. The pupils seemed to really enjoy this festival.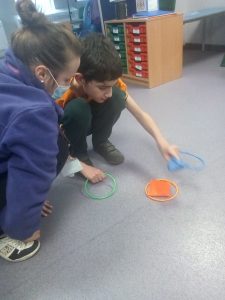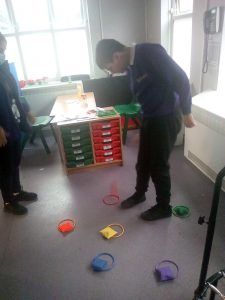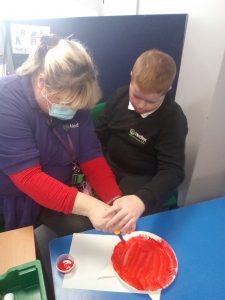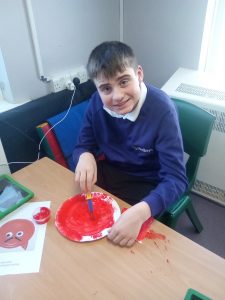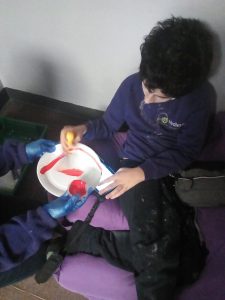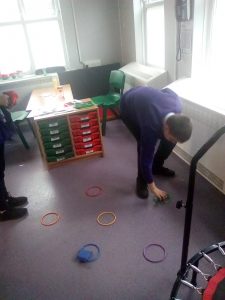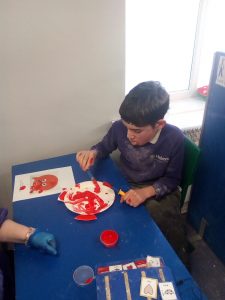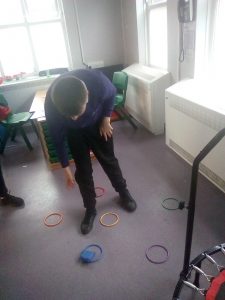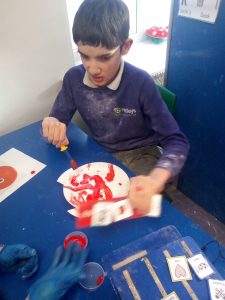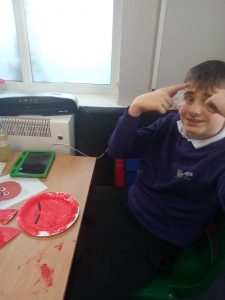 Aydon Class
Our topic 'Chocolate' has been the stimulus for the majority of sessions in Aydon class. This has included using the text 'Charlie and the Chocolate Factory' to inspire English and maths sessions, and learning about the Aztecs in history. Pupils have also been following 'The Journey of Chocolate' in topic, finding about its origins and learning about some of the history of civilizations and cultures it is associated with it.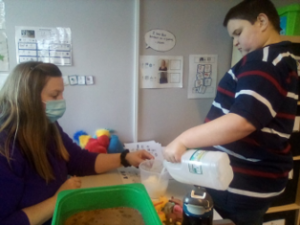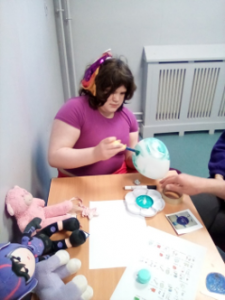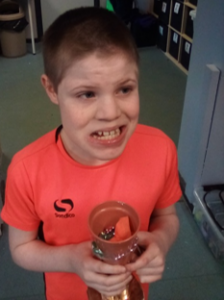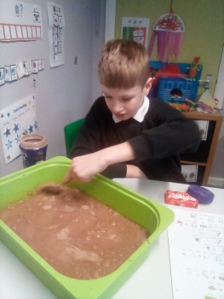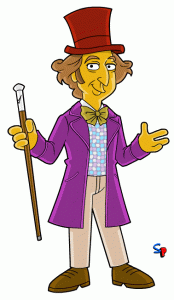 Warkworth Class
Warkworth class have been loving the chocolate topic this term. Interacting with chocolate science experiments and recording their findings using timers and conducting fair tests.
Roald Dahl has been the topic for English, focusing on his short stories and answering questions on his stories and fact finding about Roald Dahl and Quentin Blake and their teachers.
In maths the students have been looking at geometry and more specifically direction, movement and position completing worksheets and conducting collaborative practical work on this topic. Our students have also been out in the community as much as possible completing work experience, shopping and social skills.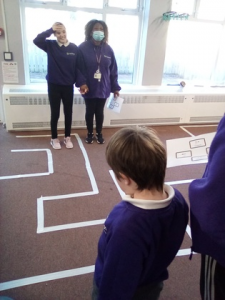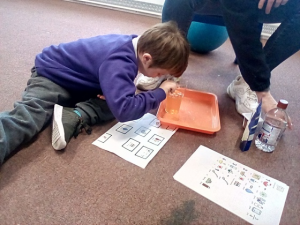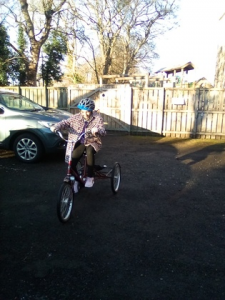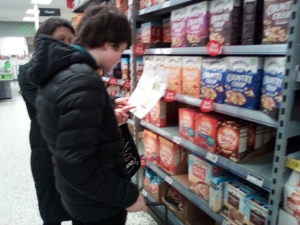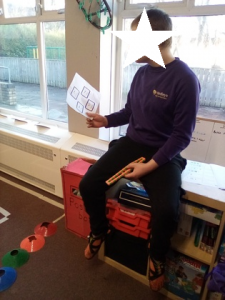 Ford Class
Ford Class had a wonderful time celebrating 'Rainbow Day' and particularly enjoyed creating their own colourful t-shirts!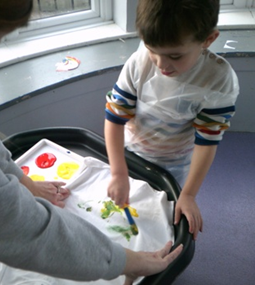 The class have also participated in interactive sensory phonics sessions, focusing on a sound a week. They have enjoyed accessing their learning through song and sensory exploration.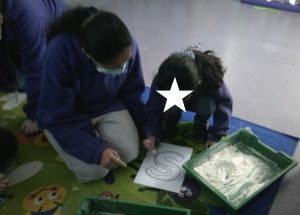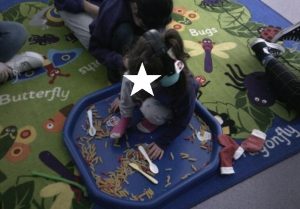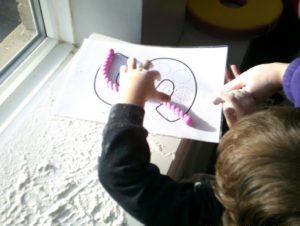 May 2021
Warkworth Class
This term we have been completing a range of sessions including work experience, where some of our students have been accessing the 'orchard' in Jesmond to complete some work experience jobs such as lawn mowing, gardening, litter picking and looking after the plants. We have also been completing some road safety around Jesmond to focus on keeping safe in the community. As well as accessing the metro once weekly to access beach school to link in closely with our topic 'coasts and boats'.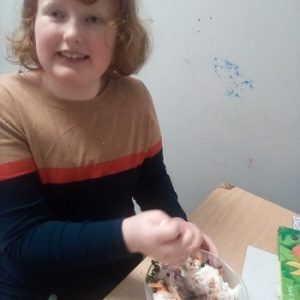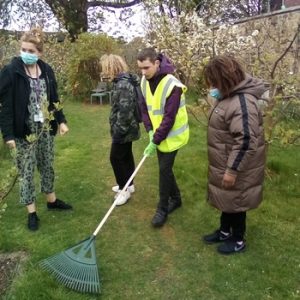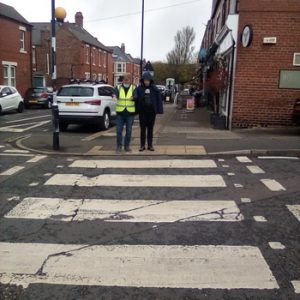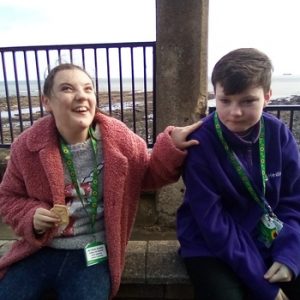 Raby Class
For our topic 'coast and boats' this term we have been exploring a new sensory story exploring sounds, tastes, textures and smells of the beach and ocean with a little bit of pirate's thrown in!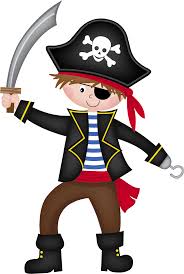 We have enjoyed singing, dancing and making lots of mess experiencing all the sounds, smells and textures as if we were at the beach with crunchy crispies, noodle seaweed and even splatting creamy sea foam!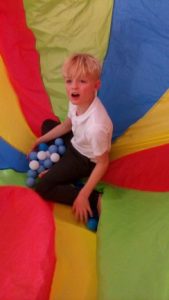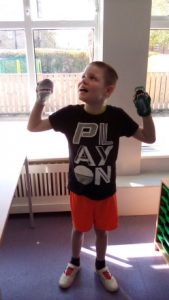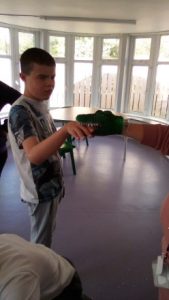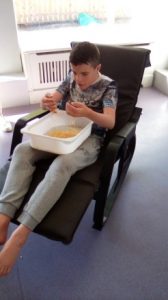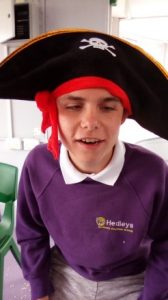 Alnwick Class
This term we have been exploring the interactive Magic Carpet in Computing.  We have been activating programmes based upon our topic and it has led to some lovely opportunities for learning about sharing and peer interaction.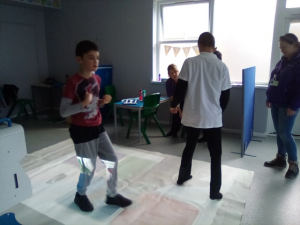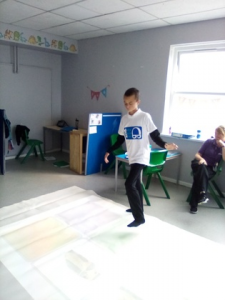 Ford Class
During our food tech session we have been learning to follow instructions, use our fine motor skills when chopping ingredients in order to make pizza.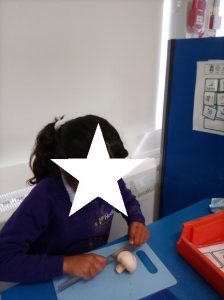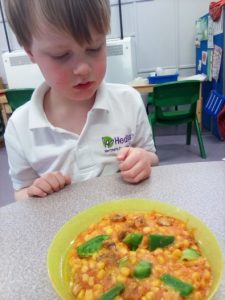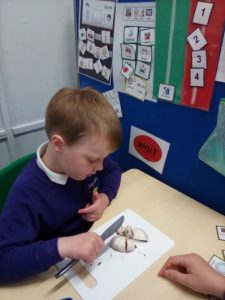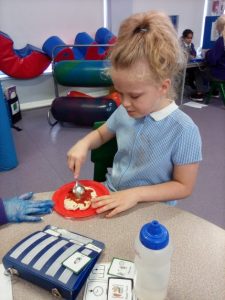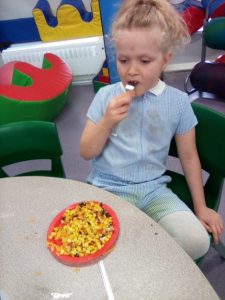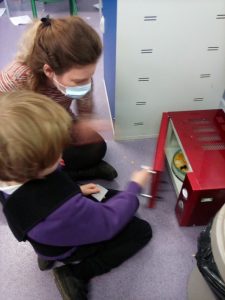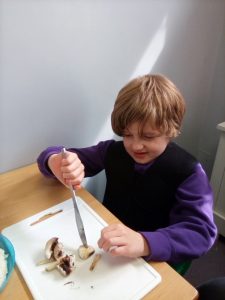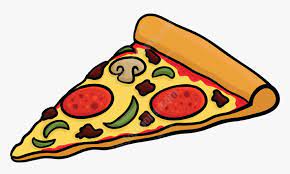 In humanities we have been focusing on different seasons and each week we have been creating a craft related to a specific season using a variety of resources and equipment.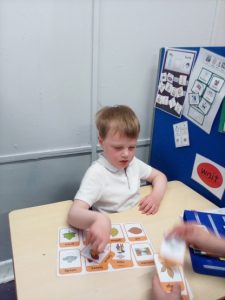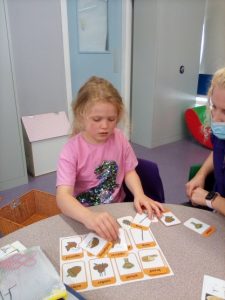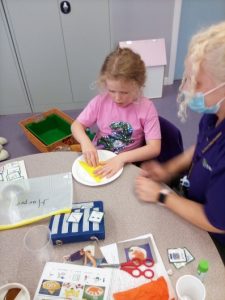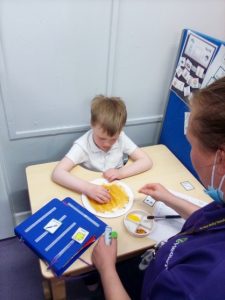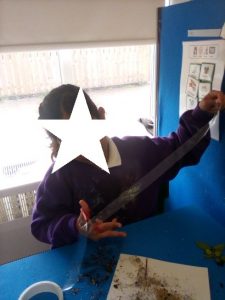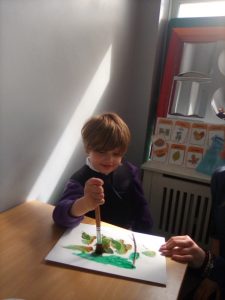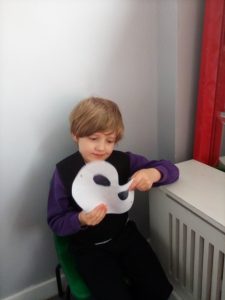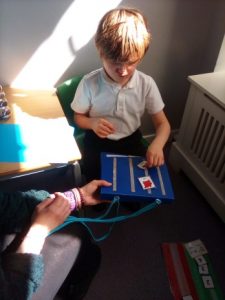 In science we have been developing our understanding of the rock cycle using a variety of resources.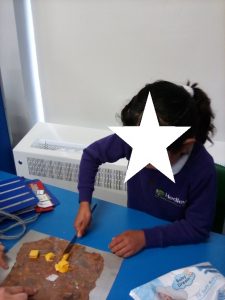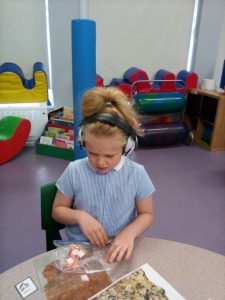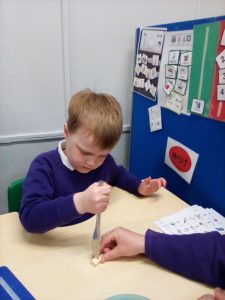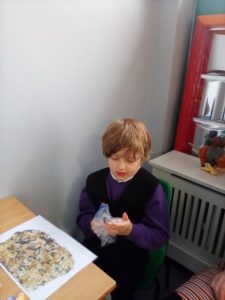 Ford Class 'Beach School'
We had so much fun learning to mark make in the sand at Cullercoats Bay.  We also explored how cold the sea felt and learnt some new vocabulary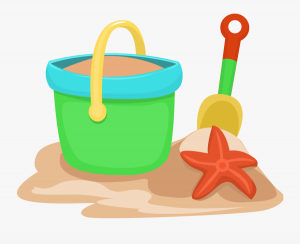 using symbols.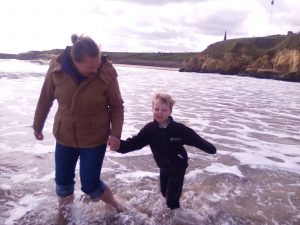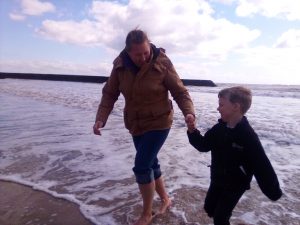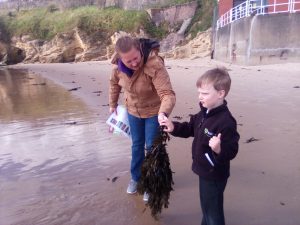 We explored how seaweed felt and used it to make some pictures in the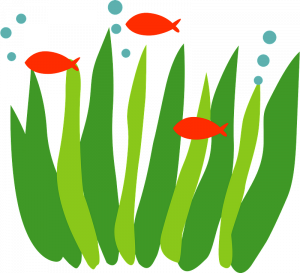 sand.  We are really engaged with learning on location.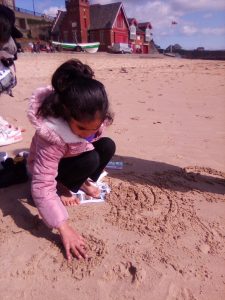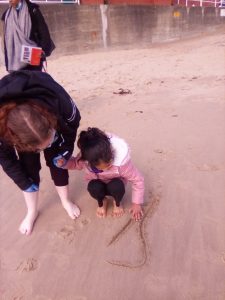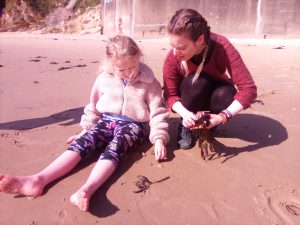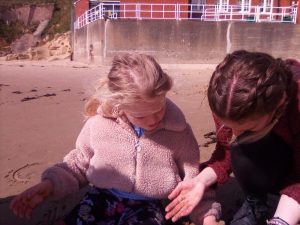 Chillingham Class
Josh's class have been learning about a range of emotions in RSE this term.  They have looked at photographs of people and sorted them into categories.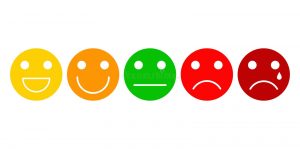 Pupils have also thought about what can make people feel happy, sad, angry, excited and stressed.  They have made their own sensory bottles and stress balls as part of the lesson.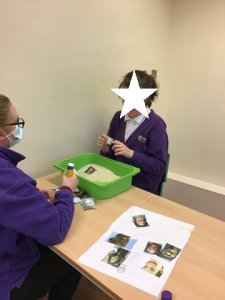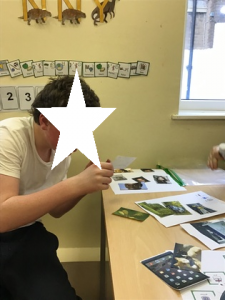 Lindisfarne Class
2 of our students have been fantastic during their work experience lesson;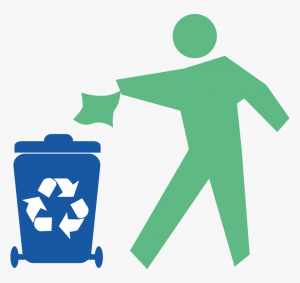 sorting and taking the class recycling to the correct bins in school, whilst doing their bit for the environment. The pupils appear to enjoy having this extra responsibility and are both becoming more independent as the weeks go on.
Other work experience tasks in the class include posting star of the week postcards, washing up, gardening and window cleaning.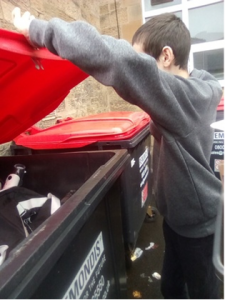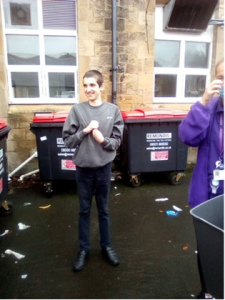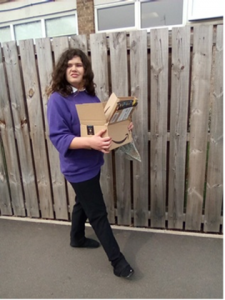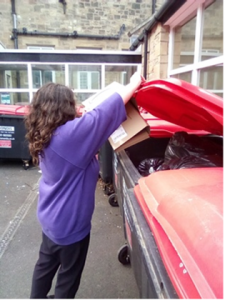 Dunstanburgh Class
In ASDAN sessions we have been looking at different cultures.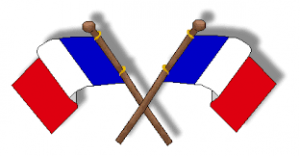 We started with France.
Students tasted food, tasted different drinks, made a flag and watched signed songs in French.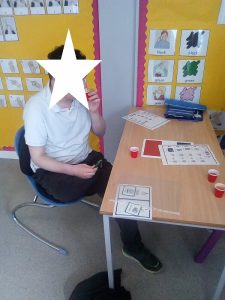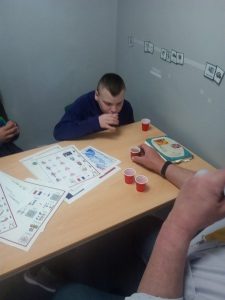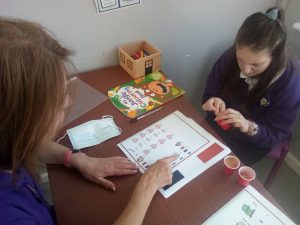 Bamburgh Class
As part of our understanding myself and the world around me sessions we have planting and growing our own plants. So far we have grown cress, beans and our sunflowers are now starting to shoot up. Students have been carefully caring for their plants taking responsibility for watering throughout the week and keeping a diary updating how much they have grown by measuring and recording any new features such as counting the leaves. They have all ben excited to show us the changes they have seen and are looking forward to taking them home and seeing how tall our sunflowers grow.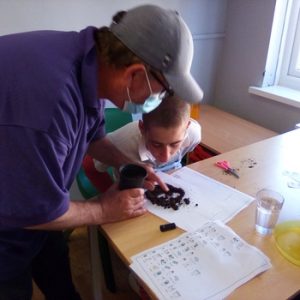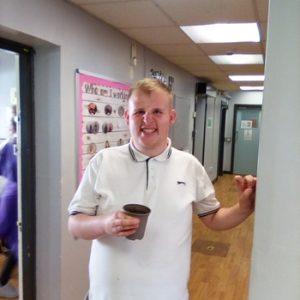 Aydon Class
Due to the pandemic some pupils have been working on accessing the local community again and building up their transitions.  In Ruth's class, we have added a treasure hunt activity into the local shopping task, this has been based on individual's interests.  So far, we have completed a Disney princess and a Treasure Island picture hunt.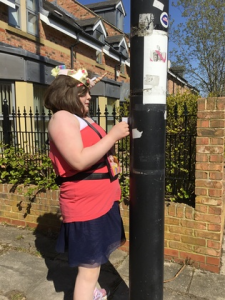 *****************************
November 2020
Bamburgh Class 14-16
Nexus Consultation – Some of our class have been working with Nexus to assist them in the design of their new carriages.  They used virtual reality to experience the movement and feel of the new carriage.  The pupils then gave their own feedback about what their experience felt like and any alterations which would make the journey better.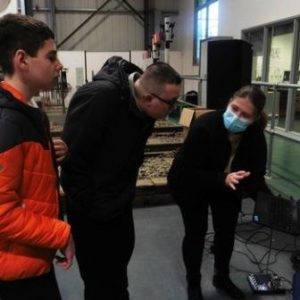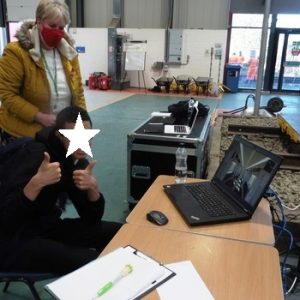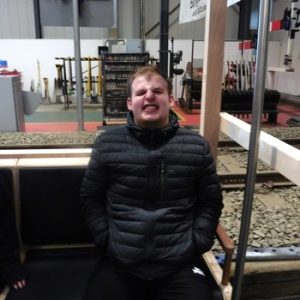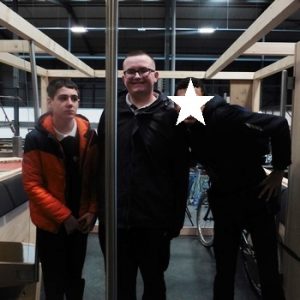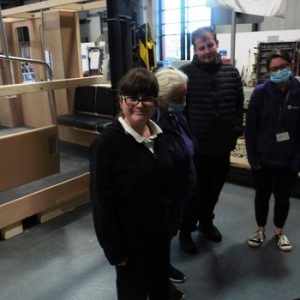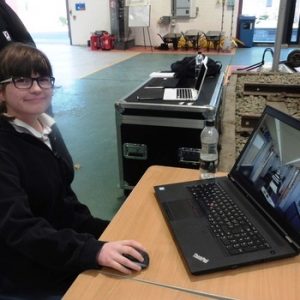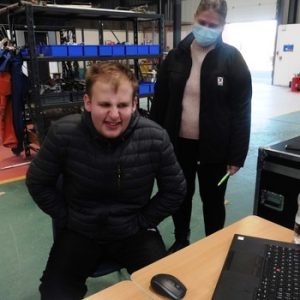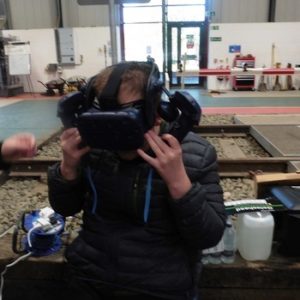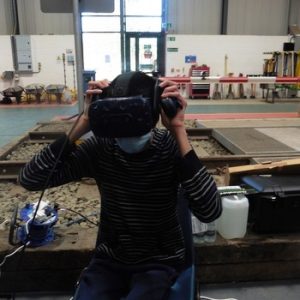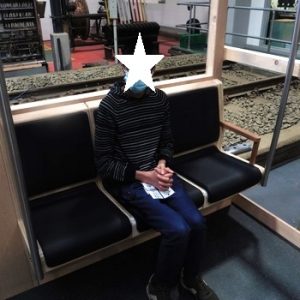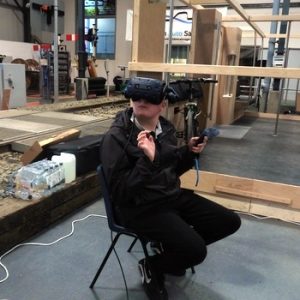 October 2020
Lindisfarne Class
This term we have started a new independence in the community lesson with the class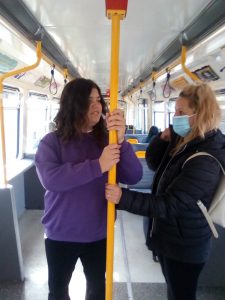 Occupational Therapist, whereby pupils are accessing different forms of public transport to travel around the local area. At present, we are looking at using the metro to travel to a range of differentiated locations based on where pupils live, what motivates them and their tolerance for travel time. One example of a location we travel to is Bill Quay farm in Pelaw, where some pupils have been enjoying visiting the different animals.  This lesson also gives the opportunity to embed communication and numeracy skills, for example if visiting a café or shop, and also develops ICT skills, when purchasing a metro ticket using the self-serve ticket machines.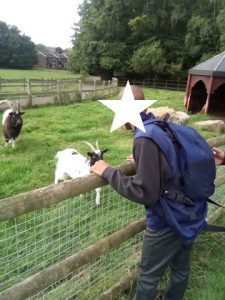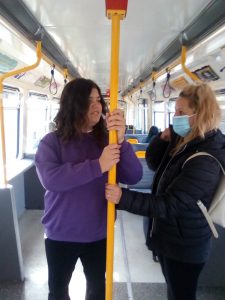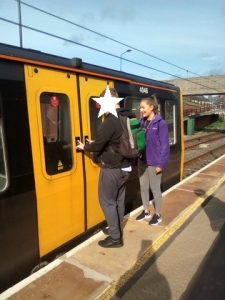 Warkworth Class

We have been doing some exciting sessions so far this term, such as work experience, forest school, art and sensory story (Harry and the bucket full of dinosaurs) and cafe sessions!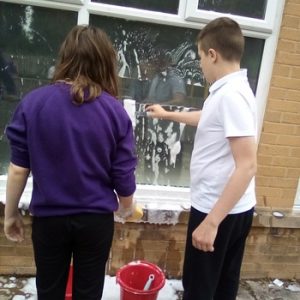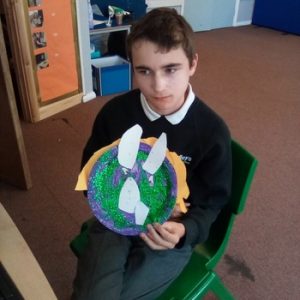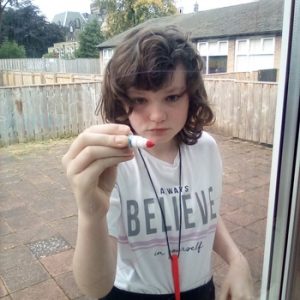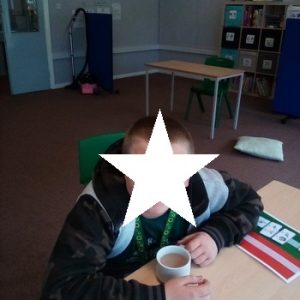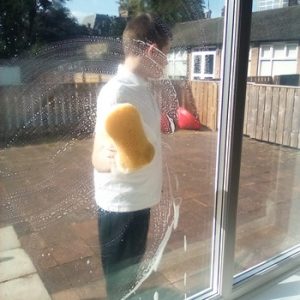 Chillingham Class
We've been having fun this first half term in Chillingham Class!  In science  we have been learning about rocks and volcanoes, as well as beginning to sort by different categories. The children are really enjoying our Science cue song 'Lava' by Pixar and using a music choice board to request it at break and lunch times.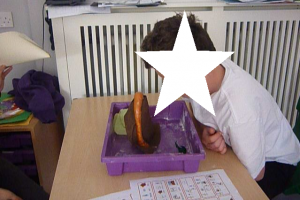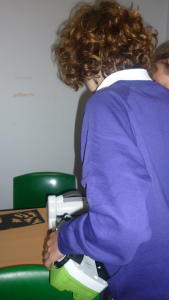 In English, children have been ordering their name in different formats and using their preferred means to communicate to request items for crafts.  We enjoyed having a go at using a die cutting machine to cut out dinosaurs for our dinosaur lanterns.  We've also been practising our writing, overwriting shapes and patterns.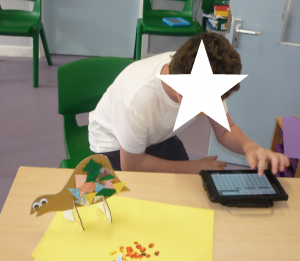 We've been out and about as part of our community work and this week we visited Saltwell Park, where the squirrels were a particularly exciting highlight!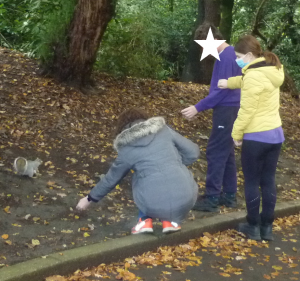 In maths, we've been working on number recognition and matching dice patterns to the correct numeral in a variety of formats, including washing the number off the window or spraying it off the wall!
We've also been washing mud off dirty dinosaurs to sort them by colour.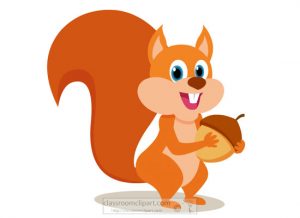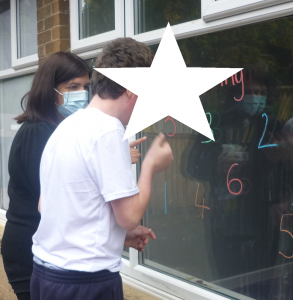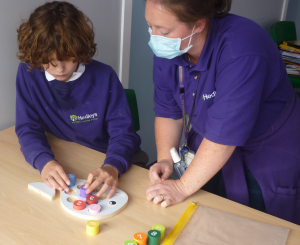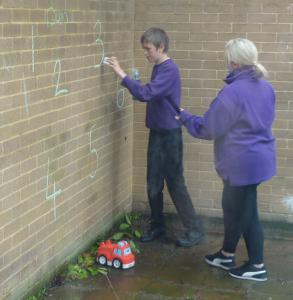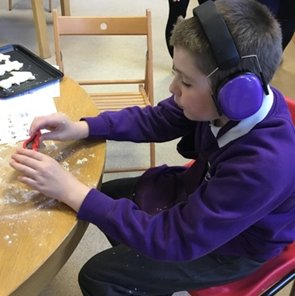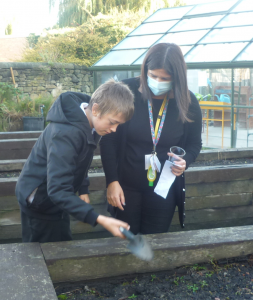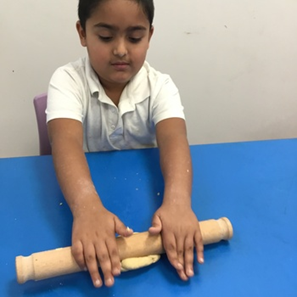 Alnwick Class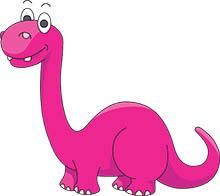 This term we have been doing lots of exciting work around dinosaurs. We have been working on our communication making choices and requesting items from staff as well as developing our independence in the community, in food technology sessions and when carrying out craft activities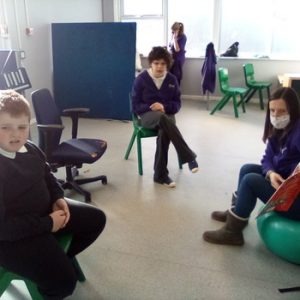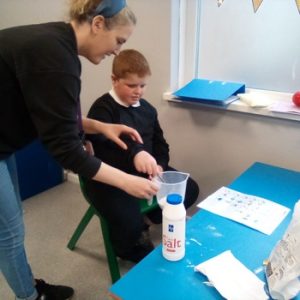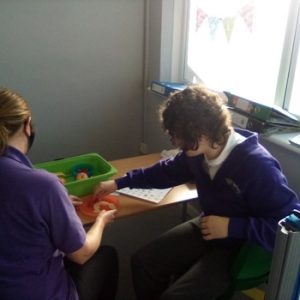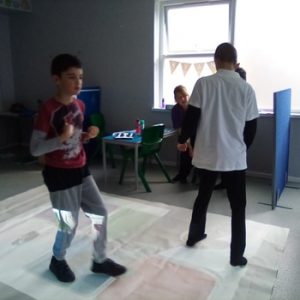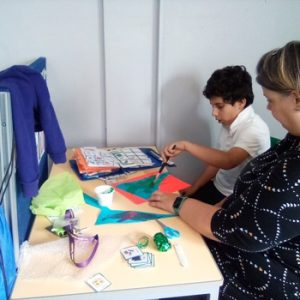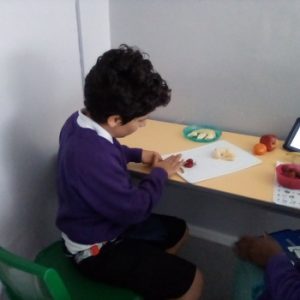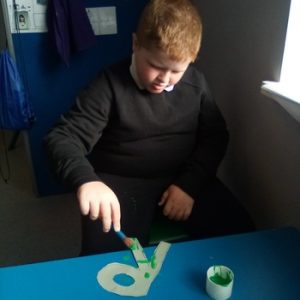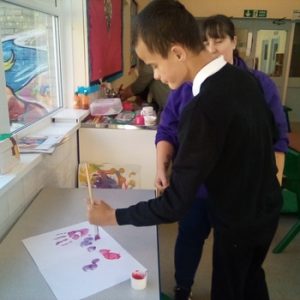 Raby Class
This term our topic has been walking with dinosaurs and we have been exploring many different things such as exploring different dinosaurs and their habitats, making dinosaur bones in art to make a very big dinosaur fossil!! We have also been exploring our earth through science and sensory experiments.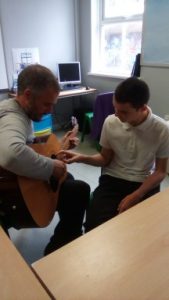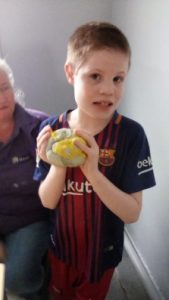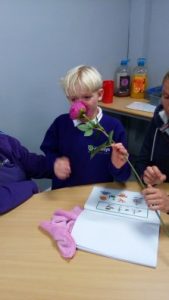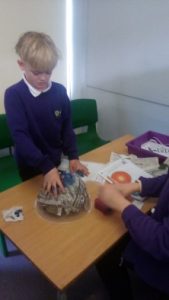 Dunstanburgh Class
As part of our work related learning, students have returned to their work experience and enterprise roles. Some have set up their own pop up cafes baking and selling drinks and sweet treats to staff working on their communication and functional money skills. Others have completed administration roles in preparing and delivering certificates and taking part in specialist DT sessions exploring the machinery and skills needed for a practical career. All students are given the opportunity to identify and develop their interests and skills to prepare them for adult life.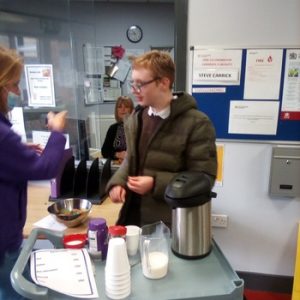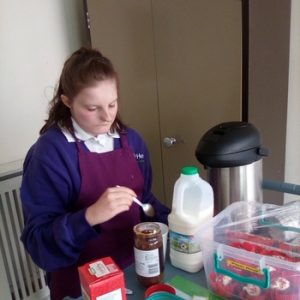 Aydon Class
Following these uncertain and strange times all of the staff team from Aydon  class have been so impressed by the children's resilience and their  ability to approach many of their timetabled sessions  with such great focus and attitude! This term 'Dinosaurs' has been our topic and has provided the stimulus for a number of the children's learning activities. These include…
Digging for and measuring bones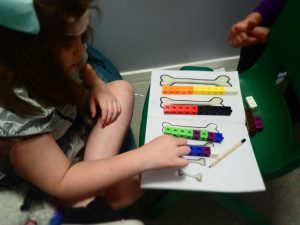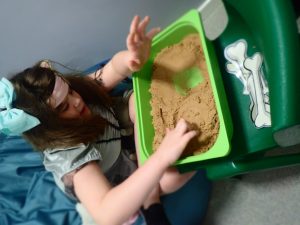 Using alliterative adjectives to describe dinosaurs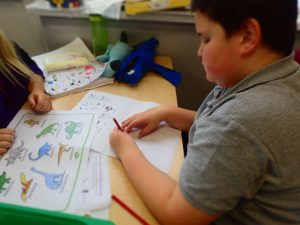 Making fruit Dinosaur models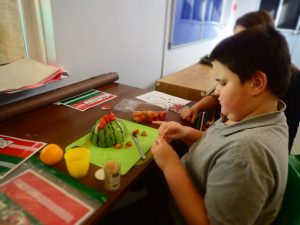 Creating fossils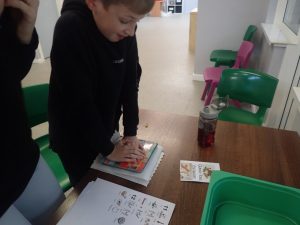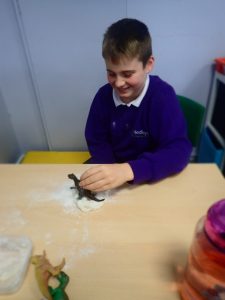 Ford Class
In Art and Forest School we have been doing a range of activities and crafts associated with Dinosaurs.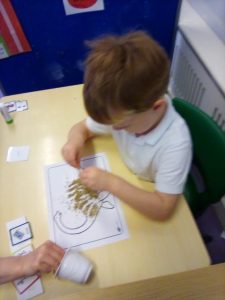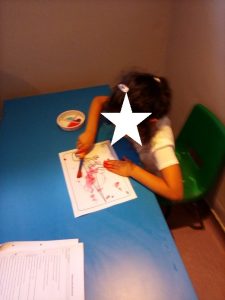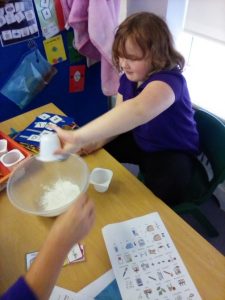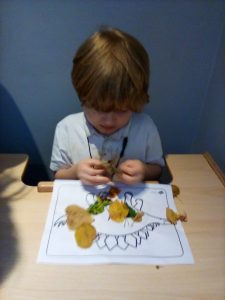 In Science we have been focusing on the animals and their habitats. We have been making different animal habitats every week.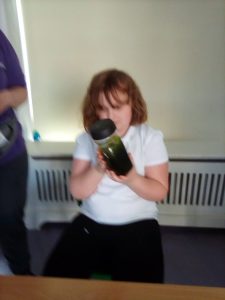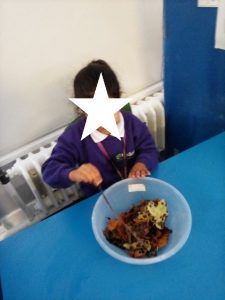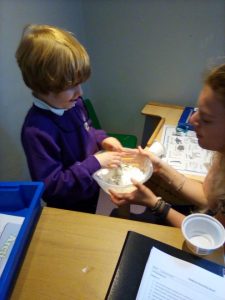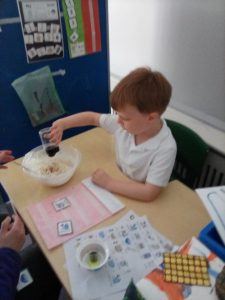 In jolly phonics we have been focusing on a different letter each week. We have been trying to do the letter's sound and action. Also we have been taking turns choosing items from the bag and matching them to the correct symbol.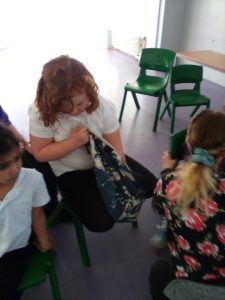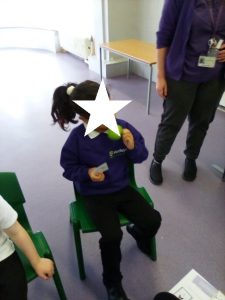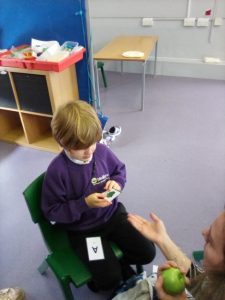 Bamburgh Class
In Bamburgh class this term so far we have participated in a range of activities. Students have participated in work experience tasters such as window washing, office tasks, gardening and cleaning cars.
Students continue to participate within the Duke of Edinburgh sessions and have been learning new skills focussing on navigation this term and using a compass.
Bamburgh students have also accessed weekly bike sessions with the Occupational Therapist; revamping and fixing up the bikes in the garage. They have shown excellent teamwork! This has enabled the whole school to access and use the bikes frequently.
Next term, Post 14 students will begin a young leaders award where they work within the school to help their community – we are all looking forward to this!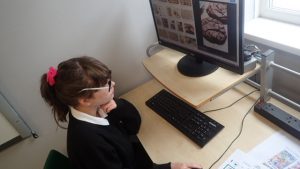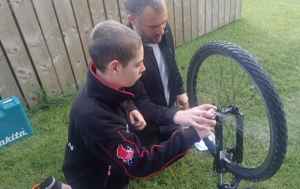 ***********************************************************************************
January 2020
Bamburgh Class
In the Autumn Term our students in 14-19 continued to access the local community using their fab road safety skills and communication. They accessed a range of exciting activities – Meeting Santa, Beamish, Community walks and local swimming pools. They enjoyed a trip to Beamish for a Christmas treat and they raised money through their Enterprise projects to buy themselves to some tasty chips!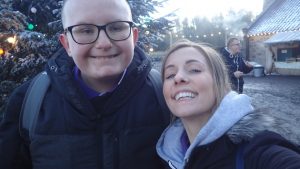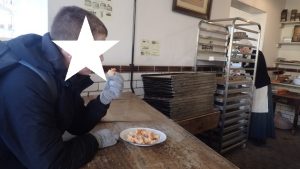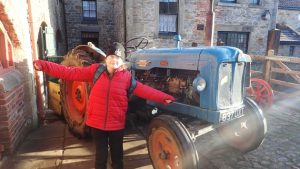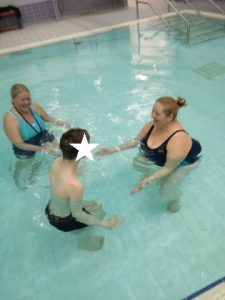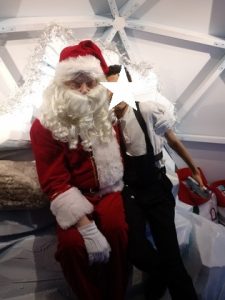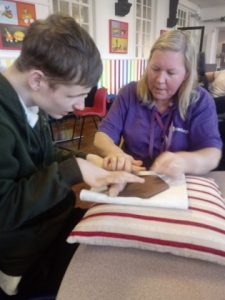 Students accessed a workshop ran by Newcastle College students during Creative Careers week, creating different designs on tiles which are on display in the main reception. They explored different materials, patterns and colours to create them.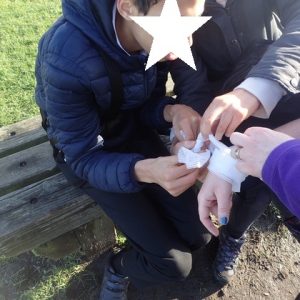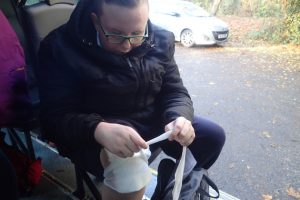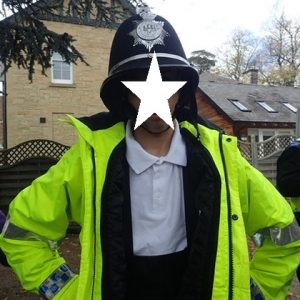 Students continue to access local hikes every Monday to participate in The Duke Of Edinburgh Award. During the Autumn term they explored First Aid and what to do in an emergency; exploring different first aid equipment and different scenarios of first aid injuries. They demonstrated fantastic awareness on how to act and stay calm during an emergency – stating to ring 999!
Dunstanburgh Class
At Christmas Dunstanburgh took part in a performance of 'The Grinch' in front of the whole school and their families, with the rest of Hillcrest Post 16. Everyone worked hard for a few weeks beforehand making props and some students were even happy to get their faces painted to look like the Grinch! All of Dunstanburgh class transitioned over to main school for the performance and went on the stage before returning to class. We think this is a fantastic achievement!!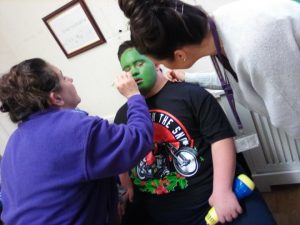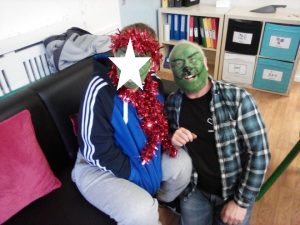 Lindisfarne Class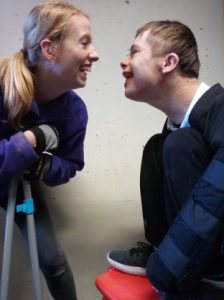 This term our topic has been America and festivals and we have celebrated many different things such as exploring different music relating to festivals and turn taking with our peers using different instruments, children in need, Halloween and Christmas along the way.  We have also presented our version of the Grinch in our very own Christmas performance!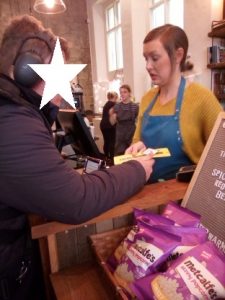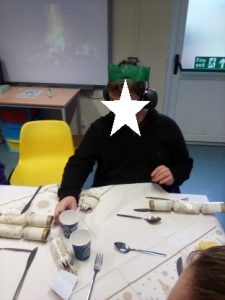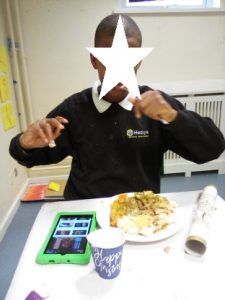 We have also been accessing the community using our PECS to request items and activities in the café, shopping and visiting the Tim Lamb centre and again working together with our peers from different classes.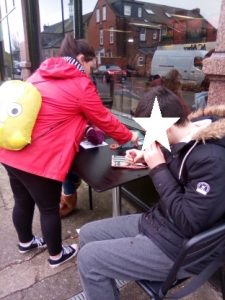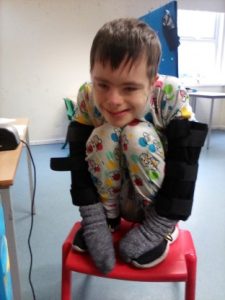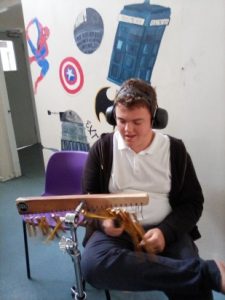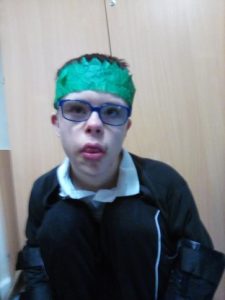 Aydon Class
During the Autumn term, Aydon class completed a unit of work about life cycles. As part of this project, the class bred butterflies from caterpillars, observed as they grew and changed, and then released them in the school grounds. The class also had a visit to Butterfly World at Preston Park where they looked at different types of butterflies in their various stages of development.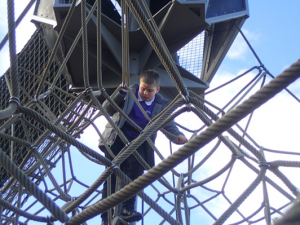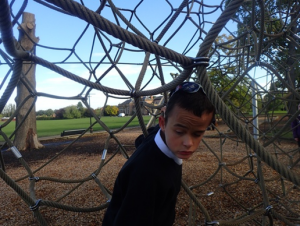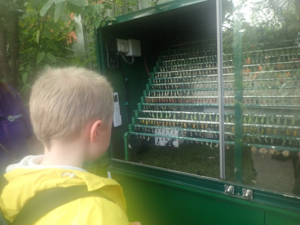 Alnwick Class
We have been very excited to welcome everyone back to school after the Christmas holidays.  We have an exciting term planned with our new topic of Superheroes!  We will be carrying out some exciting Superhero Science experiments in Science, in Food Tech we will be making Rocky Road and flapjacks and in Play Skills we will be exploring Hillcrest's new magic carpet.  Children already had a try of this on Friday and absolutely loved it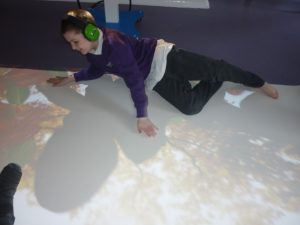 Alnwick Class visited Pizza Hut for our Christmas treat, we had a lovely time!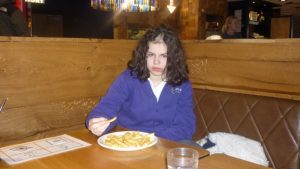 For the school Christmas Fair, Alnwick Class planted hyacinth bulbs.  We potted them up

and kept them in a dark place, checking on them regularly.  When it was time, we repotted them into bigger pots that we had decorated.  Children really enjoyed planting and observing the bulbs grow – we definitely have a few budding gardeners on our hands!
For Humanities last term we explored local country parks and the Tim Lamb Centre.  We really enjoy our Tuesday afternoons out on the minibus.  This term we will continue with country park walks, but also plan to explore some of the museums in Newcastle.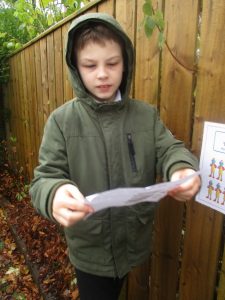 In Maths last term we focused on number, we enjoyed a variety of maths themed treasure hunts outside.  We will continue to build our understanding of money this next term, but will also be looking at shape and time.
Remember to keep checking on Earwig as we share our work regularly.
We wish you all a very Happy New Year for 2020 – we are really looking forward to the term to come!
Warkworth Class
Last term students have enjoyed following recipes to make traditional Christmas dishes from around Europe including rice pudding from Spain, lebkuchen biscuits from Germany and Christmas pudding from the UK. Students explored different smells, tastes and textures of ingredients and were excellent in reading and following instructions and demonstrated their independence skills in finding and collecting items needed and using to carry out the steps of the task. Students practiced skills in measuring, mixing, rolling and cutting and using equipment including the microwave and hob safely. For many of us our favourite part was the tasting at the end!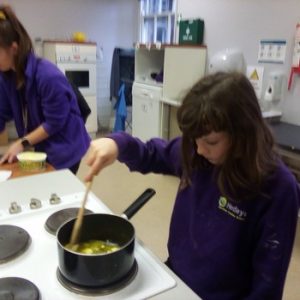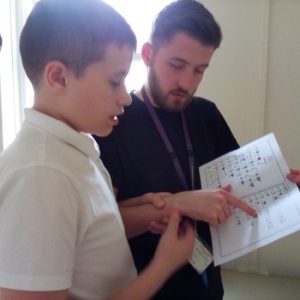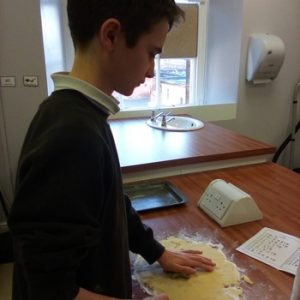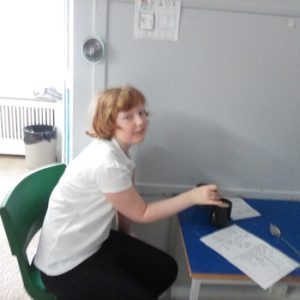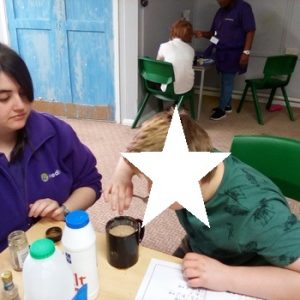 Ford Class
In Art and Forest School we have been doing a range of activities and crafts associated with the Chinese New Year as part of our topic this term, which was Asia.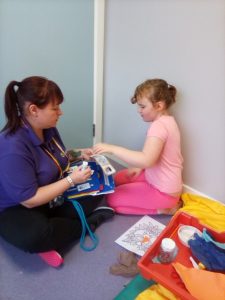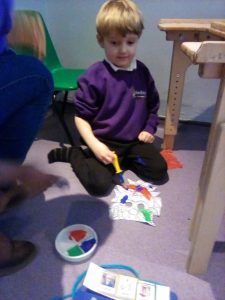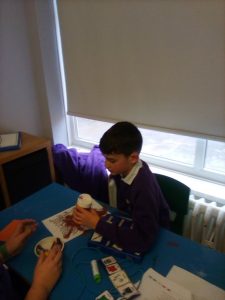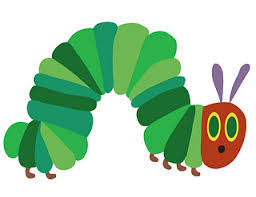 In Science we have been focusing on the 'Very Hungry Caterpillar's story. We have been learning about the caterpillar's life cycle making lots of crafts about it.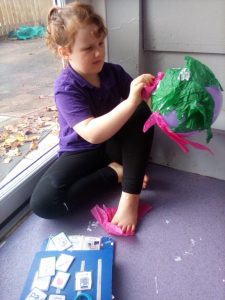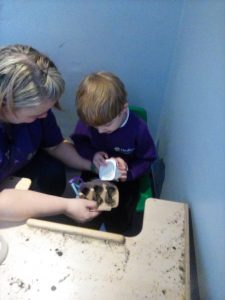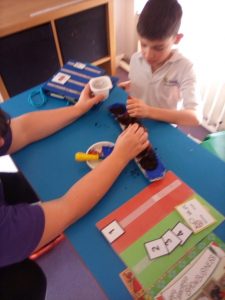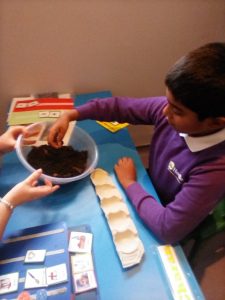 In Numeracy we have been focusing on a variety of topics like numbers, measure, shapes and time and we have been doing lots of fun and interesting activities.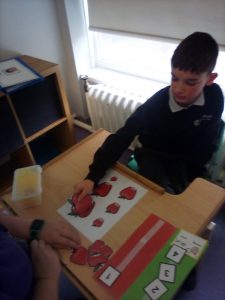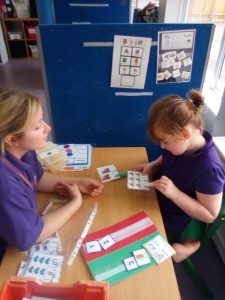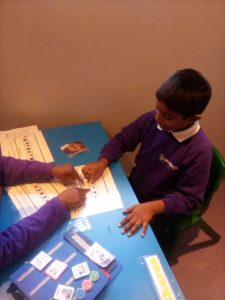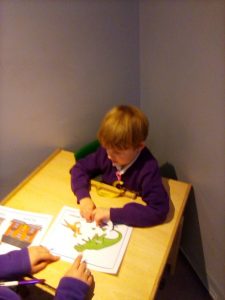 Raby Class
Last term the pupils engaged in the sensory story of "Room on the Broom". Pupils were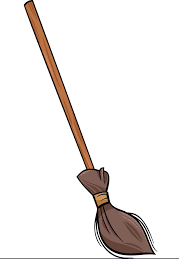 encouraged to explore the sensory items linked to the story, with each pupil appearing to have their favourite item, whether it was the cat, witches hat, cauldron or the broom.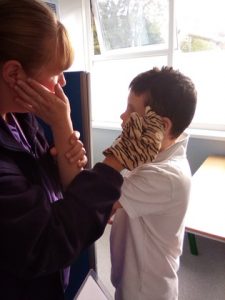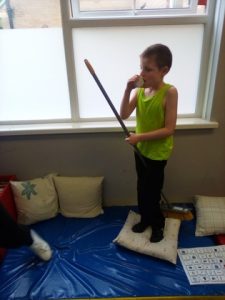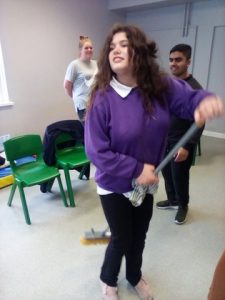 This lesson allowed pupils to use their core vocabulary boards to comment throughout the lesson with key words such as like, more and finished, and embedded the concept of turn taking and sharing of resources throughout.

Chillingham Class
This term in class we have been extremely busy learning lots of new skills. Our children have been doing a lot of adding and subtracting within maths, listening to and exploring a lot of stories in order to find the missing answers to questions as well as in science the children have really enjoyed carrying out sinking and floating experiments.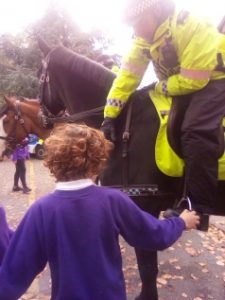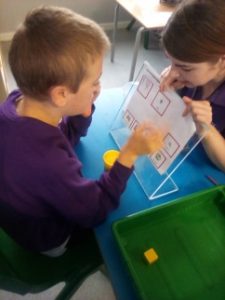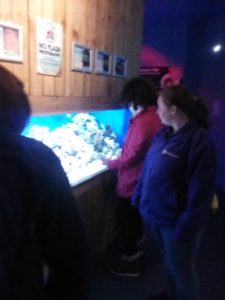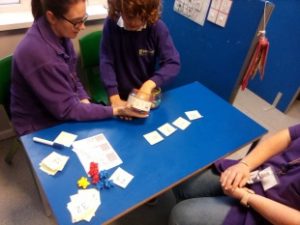 The Harvest festival has still been the main theme overall however, how could we forget about the most important one of all CHRISTMAS!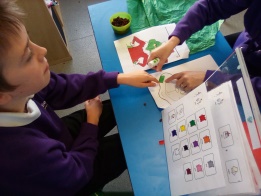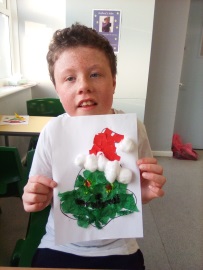 We have continued to make communal visits each week to the supermarket working on the children's communication and interaction skills. We also love our weekly trip to Waves on a FriYAY which is a great, fun way to end the hard working school week, making a big splash.
To end our term and to say thank you to all of the children for their hard work we all had a lovely trip to Pizza Hut. Our class loved this and I think it's safe to say the staff did too…!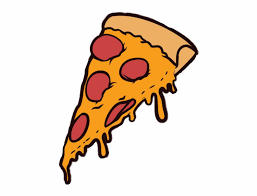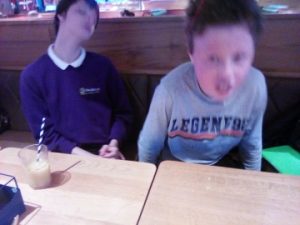 Our class are working extremely hard and are progressing on a daily basis, I cannot wait to see if we can beat the amount of progress we have made in this term in the coming terms. Go team Chillingham, 'we got this!'
September 2019
Welcome to the new Academic year 2019-20
This year all of our classes have been renamed – with the theme of interesting places around the North East….. We also have a newly opened centre – The Armstrong Centre. Please take a look below to see what all of our classes have been up to since the start of the new term…
Janice's Class – our new class name is Alnwick Class!
In Alnwick Class we are settling into the new school year and having lots of fun!  In Humanities we have been visiting various local woods and country parks.  We have really enjoyed being outside in the local community and looking for signs of autumn.
We have continued with our Thursday café visits and children are doing very well managing in a public environment, most are using their PECs to ask for what they want and paying for their order.
In art we have been learning about the summer solstice and creating some lovely suns!
Mollie is our SALT this year and she and Shauna (OT) have been delivering a weekly play skills lesson.  We are seeing some lovely interaction and turn taking.
Over the summer holidays, we have had a new regulation area which is proving to be a huge success with our children, and their staff!  We are using this area regularly and it is proving very beneficial to support regulation and promote positive social communication.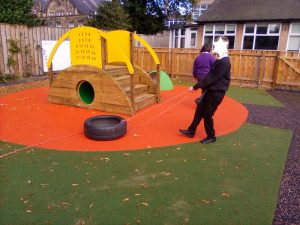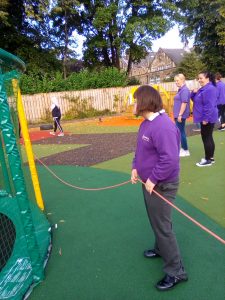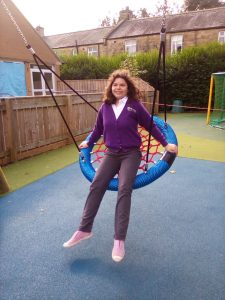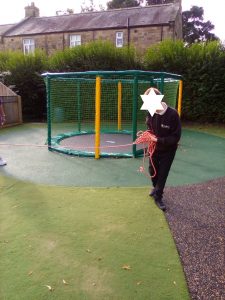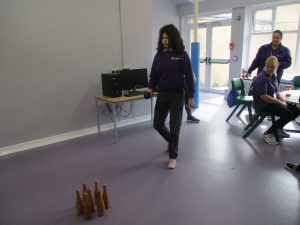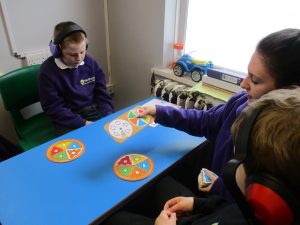 Michelle & Megan's Class – our new class name is Warkworth Class!
In Megan and Michelle's class we have been joining in with weekly body awareness and yoga sessions as part of our PE curriculum. Students have been able to identify different body parts and use our bodies to move in different ways responding to instruction cards and music. Week on week we are improving on copying and holding postures and to fit in with our celebrations around the world theme we even made carnival masks and copied some dance moves. It has been lovely to see the group so engaged working together and most importantly having fun!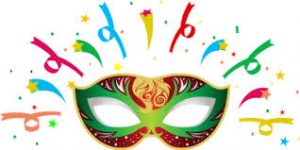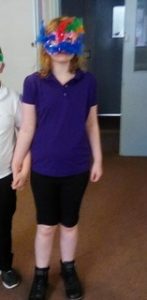 Jessica G's Class – our new class name is Chillingham Class!
This term in class we have been getting up to all sorts of things revolving around the 'European Festivals' topic. The Harvest Festival has been the main theme within lessons, we have made some musical maracas in D and T using Harvested pumpkin seeds and decorated these using paints and some children even chose to dip there maracas into cinnamon and exotic spices; whilst in English we have been making lists for 'The Scarecrows wedding'.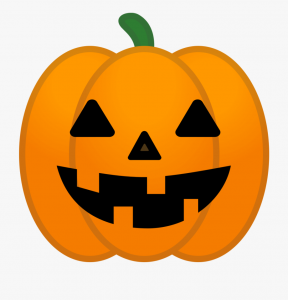 In Science, we have all been working extremely hard and get ting creative doing lots of different experiments. One of our favourites was making our very own solar lights which lit up the room when we switched the lights off.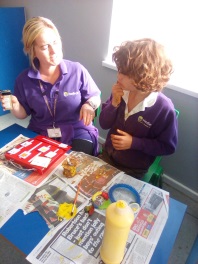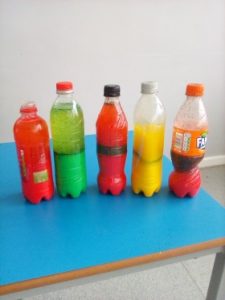 We have continued to make communal visits each week to the supermarket working on the children's communication and interaction skills. We also love our weekly trip to Starbucks on our FriYAY afternoon which for the children… and staff is a lovely relaxing way to end a busy week full of fun and learning. Sonny is our keen Starbucks goer who loves to have a good read and a packet of crisps.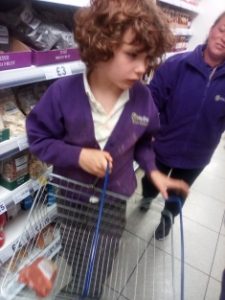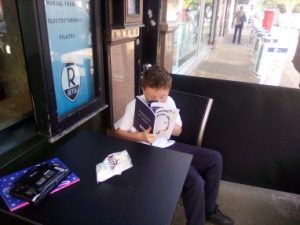 Our class are working extremely hard and are progressing on a daily basis, I cannot wait to see what we all get up too in the coming term. Go team Chillingham!
Claire's Class – our new class name is Dunstanburgh!
In art this term Dunstanburgh class are working towards ASDAN Life Skills Challenge Experiencing Art Activities. Throughout the module we have been experiencing the sensory qualities of art and using different tools and equipment to make different pictures and textures. So far this term we have used our fingers, toilet roll tubes, bubble wrap and forks. One student even chose to use his nose!! All our art work is linked to our topic 'The America's Food and Festivals' with a specific focus on all things relating to North America. Week one we all worked together to make an American flag which is now the backdrop for our WOW wall in class.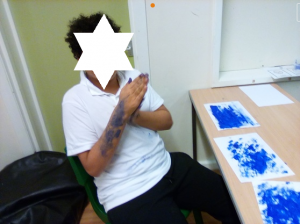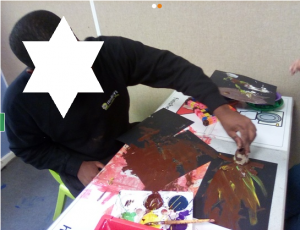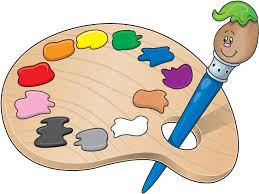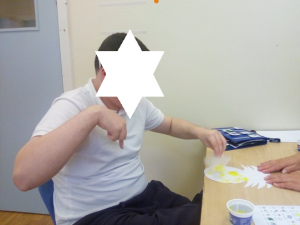 Annmarie's Class – our new class name is Lindisfarne Class!
Asdan life skills challenge module – Experiencing activities related to festivals and celebrations – Day of the dead
This term during art and Asdan we have been exploring different foods and objects relating to the Mexican festival Day of the dead and students have been working on initiating interaction relating to the festival.  We have made foods like Guacamole and salsa and have made different musical instruments used throughout the festivals.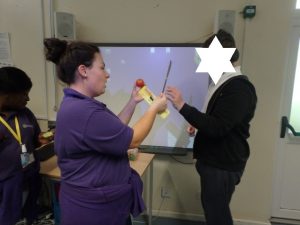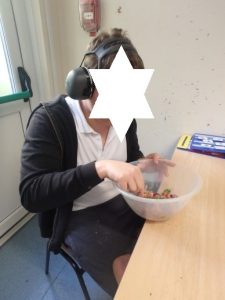 We have also explored the sensory qualities of objects relating to festivals for example foods, decorations, clothes and music.  Students have been working on initiating interaction.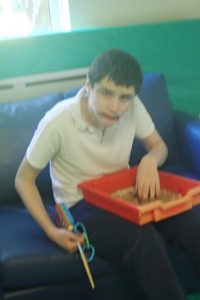 Ilianna's Class – our new class name is Ford Class!
In food technology we have been making Mango Lassi Smoothies as part of our topic this term – Asia  – by working together, following instructions and using different equipment.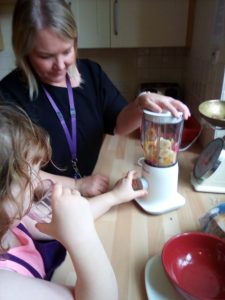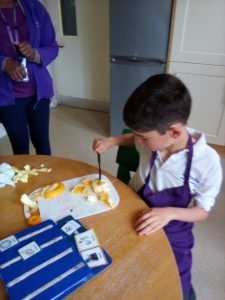 In Science we have been focusing on the ''Little Acorn'' book and its adventurous story to become an oak tree. We are also learning about the life cycle of various animals (bees, owls) and making lots of crafts about it.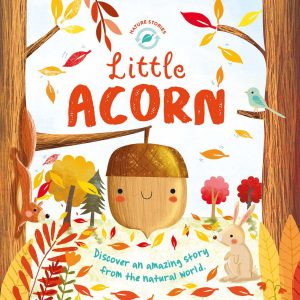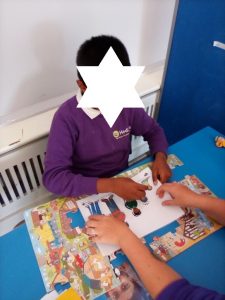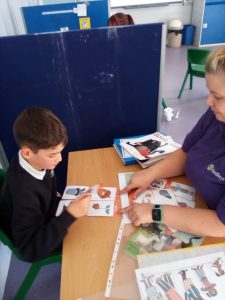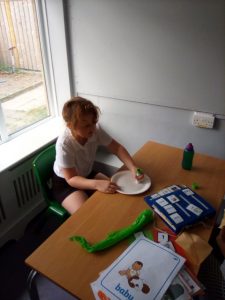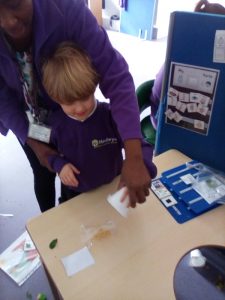 In our Jolly phonics sessions we have been listening to the jolly phonics songs and also doing the action of the specific letter. Then pupils have been taking turns and choosing an item/object from the bag and then having to choose the correct PECs symbol from the board. Pupils have also been doing tracing and sensory writing.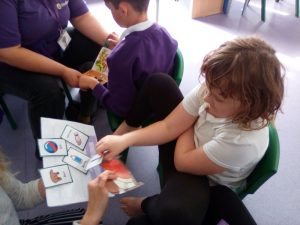 Ashleigh's Class – our new class name is Bamburgh Class!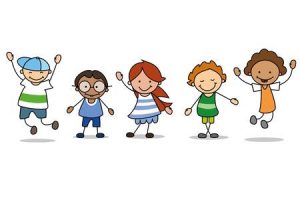 This half term our students have been settling into their 14-19 curriculum well and are enjoying their sessions. Within performing arts we have had the opportunity to complete a weekly dance workshop with Liberdade dance company. The students have been working well as a group to create and follow dance routines.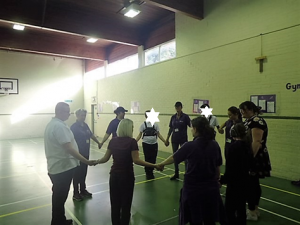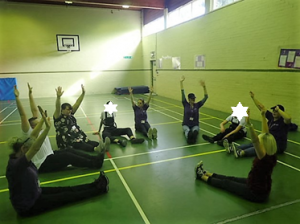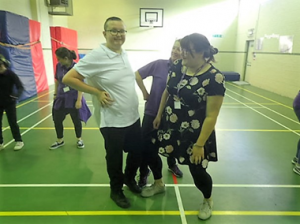 Some of our other students have been displaying their skills throughout weekly music therapy sessions where our music therapist has been exploring various vocals and instruments.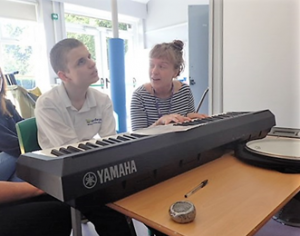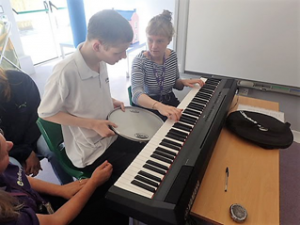 Jen's Class – our new class name is Raby Class!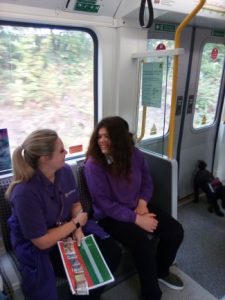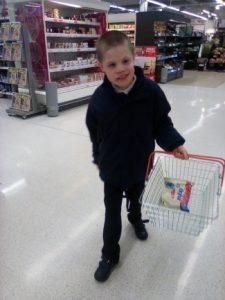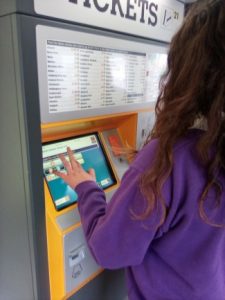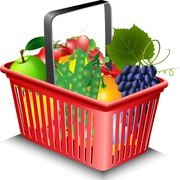 This September, our class have been using the metro to visit local supermarkets to select and purchase an item of our choice. We are developing our ICT skills by learning how to use the ticket machine and self-service tills, whilst also increasing our numeracy skills when handling money. It is a good opportunity to practice what we learn in the classroom in real practical settings.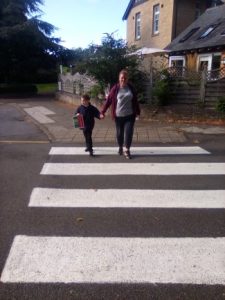 Whilst walking to and from our destinations, we are encouraged to carry out road safety; identifying, with support, when it is safe and not safe to cross. Learning independence skills is a really important element to our curriculum!
Ruth & Rebecca's Class – our new class name is Aydon Class!
As part of our community access in Aydon class, we have been taking part in the Great North Elmer Parade. The children have been using their Elmer map to navigate to locations around the city and the coast to find all of the brightly decorated Elmers. They have then been using stickers to record how many Elmers they have found and where.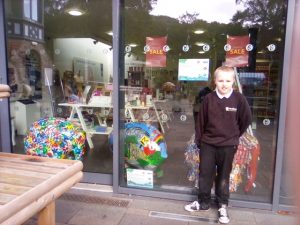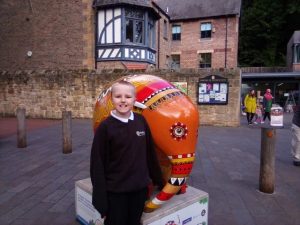 So far we have found the Elmers in the city centre, exhibition park and, our favourite so far, the Lion King themed Elmer in Northumberland Park. We are looking forward to much more happy Elmer hunting in the coming weeks.
*****************************************************
July 2019
Abi's Class
Abi's class visited the Samye Ling temple as a culmination of their lessons on Buddhism.  Pupils toured the temple and gardens, exploring all areas.  The class found the temple peaceful and particularly engaged well with the monk who described life at the temple.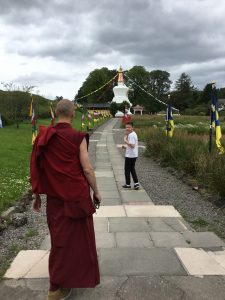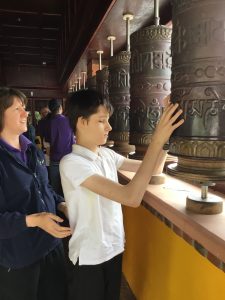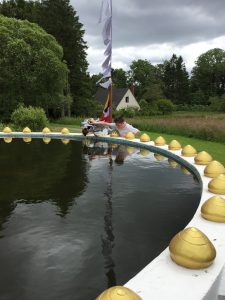 April 2019
Abi's Class
Pupils had a topic launch day at Beamish Hall.  The pupils all accessed the new Alice in Wonderland Woodland trail, exploring parts of the story through nature.  Everyone found the cheshire cat and most of the group travelled down the rabbit hole!  Pupils are now eager to find out more about the topic this term in their school based lessons.'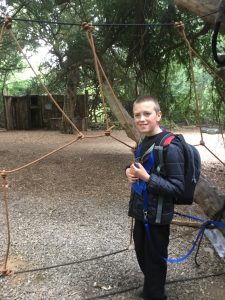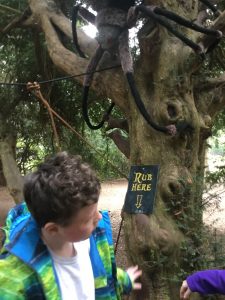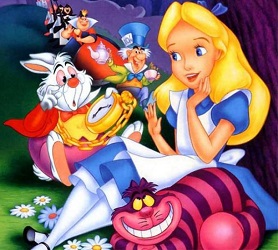 Jen's Class
Play Skills – Every Tuesday afternoon our class work with the Occupational Therapists for a Play Skills lesson. The purpose of the lesson is to teach appropriate play and encourage interaction with each other, focussing on turn taking and sharing.
During this lesson pupils are encouraged to use their preferred communication methods to make selections of what games they would like to participate in. Pupils are then supported to work in pairs, or sometimes as a whole group to engage in their chosen activity and when we are lucky enough to have some sunshine; the lesson can be taken out in to the garden; as was the case on Tuesday 30th April 2019 when the pupils clearly enjoyed their lesson in the sun.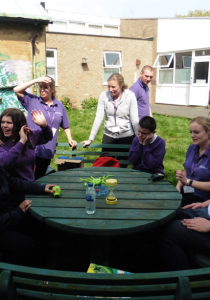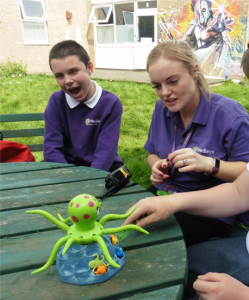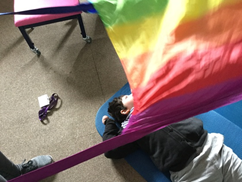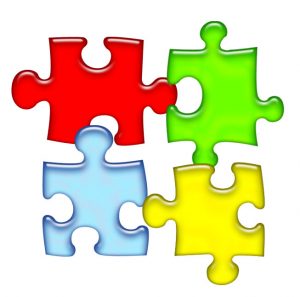 Games included Jolly Octopus, where the pupils took it in turns to rescue coloured crabs from the octopus's rock and Leapfrog; a game which encourages pupils to take it in turns to bounce the frog on to a numbered lily pad and which also allows for some numeracy to be embedded.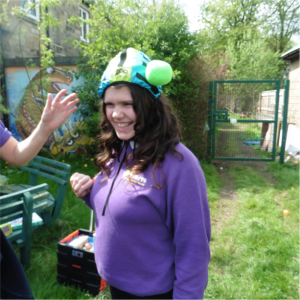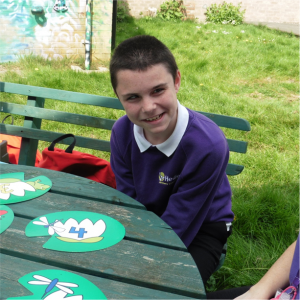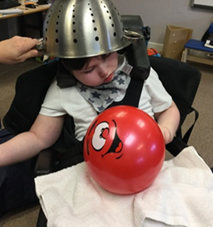 Jess's Class
We have been doing some lovely things in Jess' class over the last term.
We have been forming letters with different materials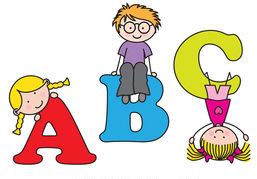 In computing we have been using different devices to make muffins as part of the topic great British Bake off by working together and following instructions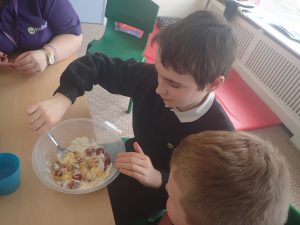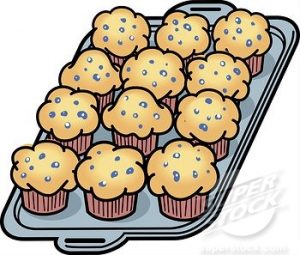 And in Science we have been engaging in a range of experiments!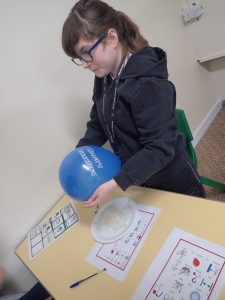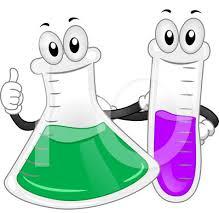 What a fabulous term we've had in Jess's class!
Ashleigh's Class  
Our class have continued with our weekly hiking sessions this term. The students continue to build up their stamina and core strength during each hike and can now all hike confidently up to 8 miles. The students engage in forest and coastal school activities throughout their hike which embeds communication, numeracy and team working along with exploring nature.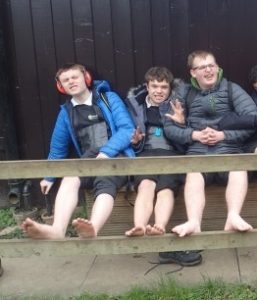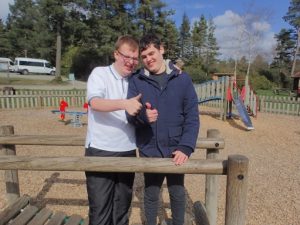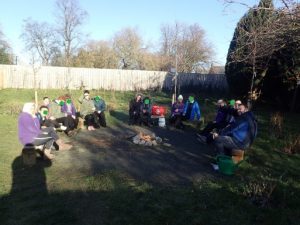 Michelle's Class 
This term we are exploring the stories of Julia Donaldson and within our community access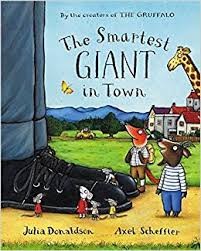 session we have been visiting story settings from some of her books. So far, like 'The Smartest Giant In Town' we have been into town and visited Newcastle city library and like the ladybird from 'What The Ladybird Heard' we have been to meet the animals at Ouseburn farm.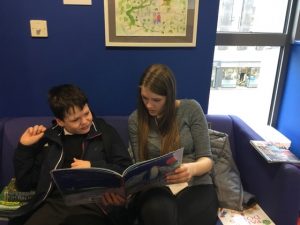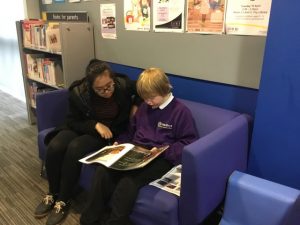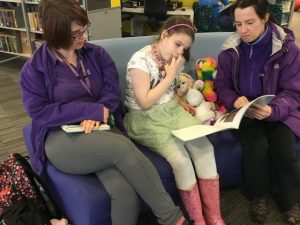 Students have been following simple maps looking for key landmarks to follow a route to the venue and finding items at their given location. Whilst on our visits we have also been completing sketches of things we can see in the style of Alex Scheffler, the illustrator of many of Julia Donaldson's books. Following our visits students are completing scrapbooks, adding photos, captions and drawings to record where we have been and identifying key features of the different environments and encouraging students to reflect upon what they have most enjoyed and anything they have not liked. In Future weeks we will visit coastal and forest areas.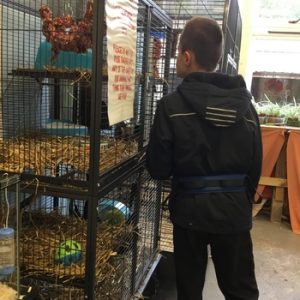 Ruth's Class 
Pupils had a great time visiting Whitley water park during their community links session. They really enjoyed exploring the water features (even dipping their toes into the cold water!), and played fantastically alongside each other.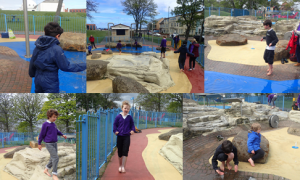 Carol's Class
A fantastic end of term enrichment week was had where everyone joined in the "FUN HOUSE" games on the field – we really don't know who had more fun staff or students!!!!!!!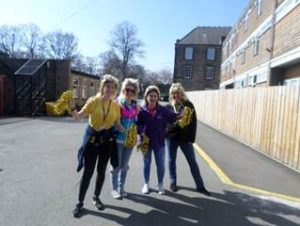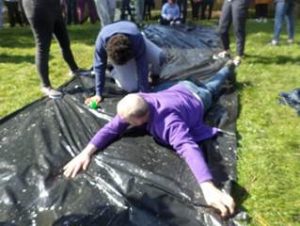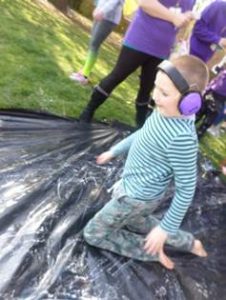 Our students have returned after a lovely Easter break eager to learn.
This term our topic focus is Alice in wonderland. We have been developing sentence building by describing pictures and making some lovely art work linked to the topic with lots of fun to  support our learning.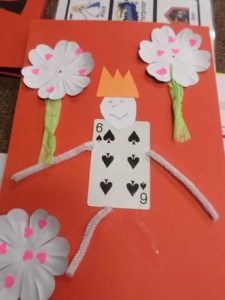 January 2019
Annmarie's Class
This term our topic is "Popular Culture" and we have been exploring a sensory story for The Gruffalo. Students have been watching and listening to the story on Youtube whilst exploring different sensory items that represent different parts of the story. The photograph shows Matthew exploring some sequin material for the Gruffalo's scales! The session aims to improve engagement, turn taking, shared exploration and interaction. Everyone has a favourite sensory item  – Matthew's is the chattering teeth!

Peter's Class  
Peters class are investigating electricity this term. We are carrying out experiments which involve measuring, sorting and cutting different materials and observing if these materials can be moved using static electricity.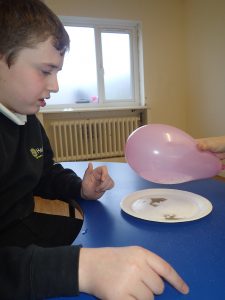 We are practicing making predictions and commenting on our findings using speech, VOCA, sign and symbols to identify and record our findings.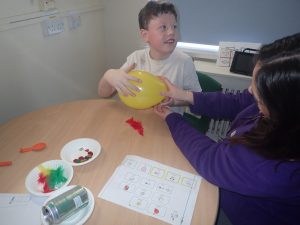 Ashleigh's Class
Over the last year Michael has been progressing in his employability skills. He has completed an internal interview for 'Karima's Kaf' and has completed a weekly work experience placement at Jesmond Community Allotment. This week Michael had an interview with Cherie from Hextol for a new work experience placement as a gardener. Michael was required to fill in an application before his interview with Hextol, and he prepared questions that he would like to ask about the placement. In the interview Michael was able to answer all questions confidently and even thought of another question he would like to ask while he was there. Cherie was really impressed with Michael during the interview and has arranged an upcoming trial.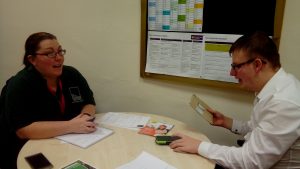 Michelle's Class 
Last week our class visited the Science Maze at the Discovery museum in Newcastle. Following on from making our own shadow puppets we went to explore the shadow wall. We all enjoyed making different shapes with our shadows and exploring how they move.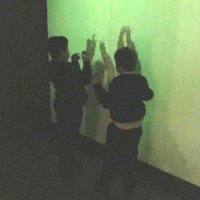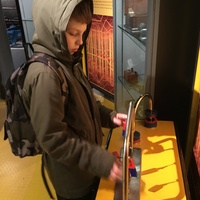 Our topic for this term is electricity and there were lots of interesting activities to try. Over the next few weeks we are looking forward to conducting our own electrical experiments and focusing on observing and recording what happens.
Jess's Class
In Jess' class we have been learning about teamwork.The children have ventured to The Tim Lamb centre on a weekly basis to concentrate on building friendships and communicating with each other.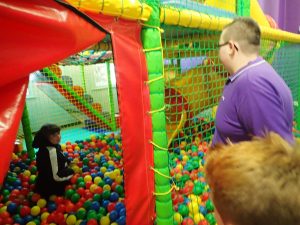 All children's targets have been set around relationship building and communication skills.The children have had an amazing time at The Tim Lamb centre and have engaged really well with all the activities set.
Jen's Class
Once a week our class visit the local Starbucks. We practice our road safety skills on the way to the café; walking calmly along the pavement, stopping at the kerb and identifying when it is safe to cross using visual and verbal support.
In the café we use our preferred communication method (PECS, VOCA, communication board, sign and / or vocalisations) to choose a snack, and are developing our money skills to pay for our chosen items, working towards identifying different denominations of coins.
Carol's Class
As part of our topic work this term we have been familiarising ourselves with the story of 'Charlie and the chocolate factory'. The pupils have been enjoying a variety of tasks involving making chocolate gloop, melted crayon canvas pictures and photo booth TV's as well as developing their individual literacy skills in describing characters and commenting on pictures.
Rebecca and Ruth's Class
During the autumn term, Ruth and Rebecca's class learnt about special places for our topic in RE.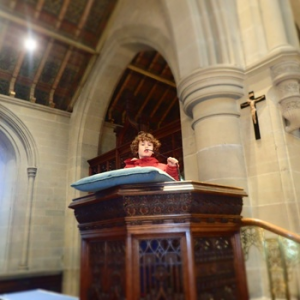 As part of our community visits, this learning was enhanced through the children having the opportunity to visit a range of different places. Throughout the first half term, we visited places which may be considered as special within Newcastle and its wider areas. Some examples of the places we visited are the Angel of the North, Segedunum and Jesmond Dene.
Within the next half term, we visited specific special places linked to various cultures and faiths, for example a local mosque, Sikh temple and St. Nicholas' Cathedral.