Our priority is for our pupils to be happy, safe, and healthy by providing and individualised curriculum in school which focuses on developing skills for maximum quality of life.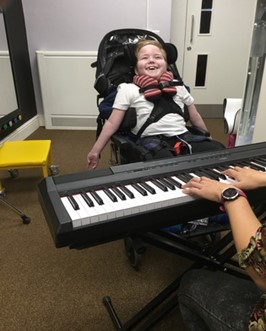 At Northern Counties School, we have a distinct population of children and young people who have combinations of very complex physical, sensory, learning and health needs.
These children may have:
Severe/profound learning difficulties
Sensory impairments affecting one or more senses
Physical needs impacting on gross and fine motor skills
Significant health and care needs requiring close supervision and specialist medical car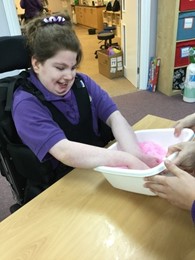 What education services do we provide for pupils with PMLD?
We provide a multidisciplinary approach to the education of children and young people (aged 3-19) who have PMLD and complex health needs. We provide a specialised integrated educational and therapeutic approach within an environment that encourages communication on all levels.
Our pupil-centred approach ensures full access to a curriculum based around the Engagement Model that is suitably differentiated to meet their individual needs. This service is staffed by specialist teachers, therapists and learning support assistants, together with full-time, on-site school nursing support. Pupils follow an individual timetable based on their needs and provision identified in their EHCP (Education and Health Care Plan). See an example timetable and a link to the Engagement Model below.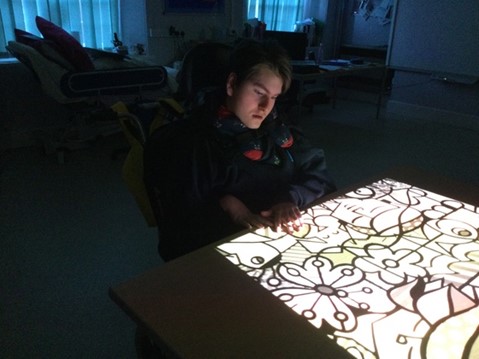 Rationale for the curriculum for pupils with PMLD
Our curriculum for pupils with PMLD reflects the cross curricular and multidisciplinary nature of the work that we do. The curriculum is divided into three strands: communication, sensory exploration and physical exploration. Cognitive development is embedded throughout the curriculum and promoted through all activities. The curriculum is topic based to provide a vehicle through which each individual can develop their range of responses, skills and interests over time, delivered at a suitable and appropriate pace. Class programmes are provided by an integrated team of teaching staff, therapists and learning support workers.
As these pupils are pre-subject learners the curriculum focuses on developing pupil engagement. Engagement comprises five areas: realisation, exploration, initiation, persistence, and anticipation. Instead of teaching pupils knowledge/skills in the traditional subject areas, the focus is instead on the area of engagement and the topic is simply a context within which to develop these areas. Teachers and therapists work alongside families/ carers to create personalised learning goals which link to targets set in the Education Health and Care Plan (EHCP). Please see the assessment page for more detail on learning goals.
We follow a whole school Positive Behaviour Support (PBS) approach and each pupil has a behaviour support plan. For the PMLD department PBS means flexibility within our timetables for personal and medical care, and position changes. The plan supports staff to identify subtle behaviours and what is being communicated.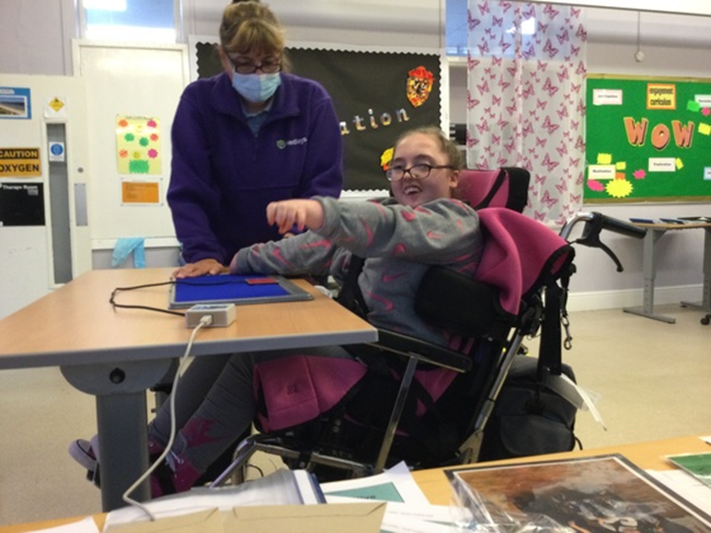 What facilities are available for pupils with PMLD?
The complex nature of our children's needs demands a high level of therapeutic input. Therefore, the curriculum is built on explicit therapy-based sessions, including motor programmes, rebound therapy, hydrotherapy, individual physiotherapy and communication development sessions. The therapeutic approach is implicit in all sessions across the curriculum, with jointly planned sessions focussing on learning goals and EHCP targets. We utilise a variety of specialist rooms including light stimulation, sensory room, rebound room, vestibular swing room, food technology room and quiet areas.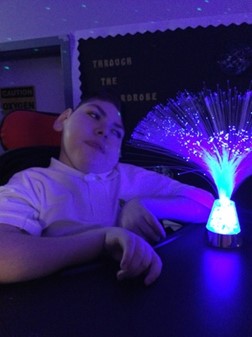 Pupils with PMLD develop new skills at varying rates and may make progress or rebuild lost skills in very small steps. For this cohort of young people maintenance of existing skills is of equal importance. Monitoring progress requires observation and interpretation of responses over time. Staff record student responses throughout the day in daily logs. This information is qualitative and includes the context of the learning, position of the pupil, facilitations, location, noise, specific information on how the learning was staged and the mood of the pupil. Through the collation of this detailed and specific information learning goals are reviewed and assessed. Please see the assessment page for more detail on learning goals.
Staff work on a one to one, or small group basis with pupils in response to their individual educational needs.
We aim to:
Stimulate and motivate each young person to use all their abilities in all areas of development.
Encourage each individual to function at their optimum level.
Scaffold opportunities for the young person to communicate their feelings, responses, preferences and choices in an increasingly consistent way and for the adults around them to respond appropriately
Value each individual's needs and interests and provide enriched opportunities to explore the world around them in purposeful ways
We offer:
A full therapy team and specialist teaching and support staff. All staff working at the school are experienced and have received specialist training to support their work with children with complex needs, including teachers of the deaf and a teachers for children with PMLD.
A sensory approach following the Engagement Model. (See link below)
Small teaching groups in classes of up to seven. Each individual has 1:1 support in order for them to fully access the curriculum and all aspects of school life. Occasionally a pupil may need additional staffing to support their health needs.
Integrated teaching and therapy – staff work together to create individual timetables and programmes to meet the needs of each pupil. This is intended to be age appropriate in terms of topic content but developmentally matched to the child's needs